If you have a doctrinal statement, do you believe it represents truth?
Of course you do, or you wouldn't believe it.
Your Doctrinal Statement is Not the Truth
But we must be careful. While truth can be found in doctrinal statements, they themselves are not the source of truth. They point and witness to the truth, but are not themselves "the truth."
Let me put this another way. Everybody  who has a doctrinal statement believes that their doctrinal statement accurately represents the teaching of Scripture. But since not all doctrinal statements agree, this means that not all doctrinal statements accurately represent the teachings of Scripture. Some points on some doctrinal statements must be wrong, and we must not be so arrogant to think that our chosen doctrinal statement is 100% accurate, while everybody else is in error.
It should be pointed out that the same goes for Scripture. When we say that our doctrinal statements just follow the teachings of Scripture, what we really mean is that our doctrinal statements follow our understanding of Scripture. Yet our understanding of Scripture may not be the actual teachings of Scripture in every case.

The Nature of Truth
This brings us to the nature of truth. While I do think that there are some things we can know with absolute certainty, I think that several ideas found on most doctrinal statements do fall into this category. And yet, because they get written into a formal "doctrinal statement" the words of the statement become set in stone, and soon, we become slaves to the statements. They surround us with walls and bind us with chains until we are no longer free.
It is much better, I believe, to think of truth not as something that has been achieved and can be summarized on a piece of paper, but as a target to shoot for, or a goal to accomplish. Truth is not something that we have already obtained, but something that we strive for.
And what is at the center of this target? What is the goal that we strive for? What is the truth?
What is the Truth?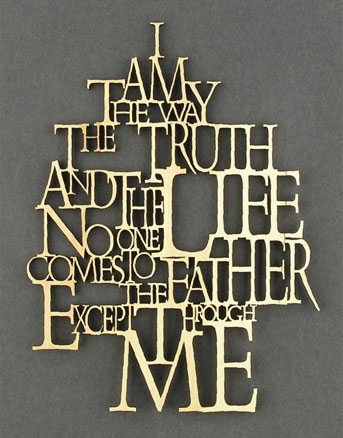 Simply this: the truth is Jesus Christ. He is the Way, the Truth, and the Life. In Him is Truth.
Some like to point to John 17:17 as proof that Jesus wants people to look to Scripture as the primary source of truth. In this verse, Jesus prays that God will "Sanctify them by Your truth. Your word is truth." But in the surrounding context, and in the Gospel of John as a whole, Jesus is identified as "the Word" from heaven which has come into the world, the Word from God which has revealed God's truth.
Jesus is the truth. Jesus is the focus. Jesus is the target. Jesus is the goal.
Jesus.
You want to center your life and ministry on truth? Center it on Jesus.
I don't mean that our doctrinal statement should emphasize Jesus. This is just doctrinal sleight of hand where we substitute Jesus for ideas about Jesus, and think they are same. They aren't.
We must be centered, not around a statement, but around a Savior. Not around a creed, but around Christ.
---