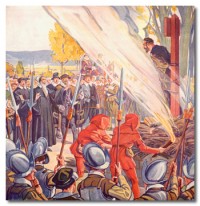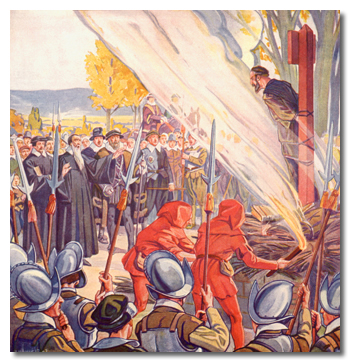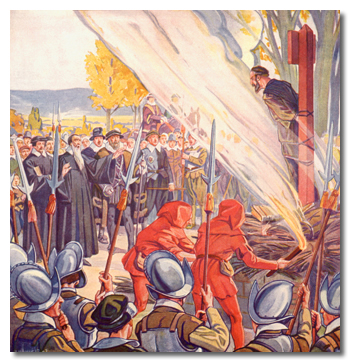 How do we explain this horrendous behavior of past Christians? The most popular way is to say that Christians of the past were influenced by their culture, and so were not at fault.
Just take one famous and contested example: the execution of Servetus by being burned at the stake. The primary accusation against Servetus was that he denied infant baptism and the classical conception of Trinity. There are numerous historical details surrounding his arrest, trial, and execution, but the main point is how modern Reformed historians explain these events. Here is one popular explanation from a well-known website and author:
The main facts therefore may now be summarized thus:
That Servetus was guilty of blasphemy, of a kind and degree which is still punishable here in England by imprisonment.
That his sentence was in accordance with the spirit of the age.
That he had been sentenced to the same punishment by the Inquisition at Vienne.
That the sentence was pronounced by the Councils of Geneva, Calvin having no power either to condemn or to save him.
That Calvin and others visited the unhappy man in his last hours, treated him with much kindness, and did all they could to have the sentence mitigated.
Having read many of the details about this trial and execution, here is how these five points could be worded differently:
Servetus did not believe in the Trinity or that babies should be baptized.
At that time, people killed others for such theological differences.
The Catholics did it too!
Calvin wrote a letter recommending that Servetus be killed, and the Council decided that Servetus "be burned alive, at a slow fire, till his body he reduced to a cinder."
Calvin pleaded with Servetus to recant his views, and thus avoid death, but Servetus refused. Calvin requested that Servetus be beheaded rather than being burned at the stake, but his request was denied.
I am not trying to condemn Calvinism, the Genevan Council, or even John Calvin himself for such behavior. I am not like this guy: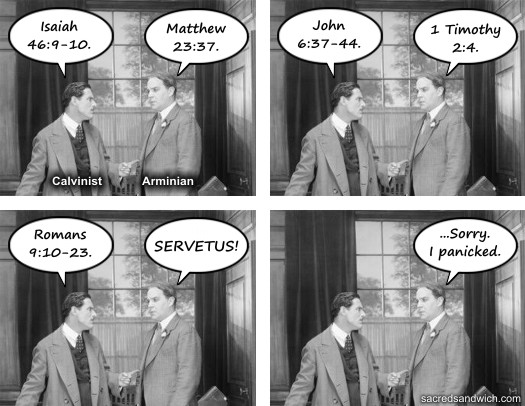 I am just saying that as Christians, we need to own up to our bloody past, and admit the truth: Yes, Christians have done some wicked, evil things in the name of Christ, and for the cause of proper theology. We should not try to explain these away. Doing so only makes us look foolish and like we are trying to hide something.
Honestly, trying to hide the skeletons in the Christian closet makes people wonder what we are trying to hide today as well. If we try to explain away and excuse Christian wars and crusades, investigations and inquisitions, or burnings and beheadings, it makes people wonder what we are trying to explain away today.
Oh, but we don't kill people for Christ today! We don't go to war with those who disagree! We don't behead and burn people who voice dissent! Or do we? Maybe we have just become so good at explaining things away, that we still do all of these things today, but we explain them away.
---