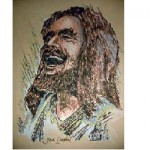 Luke 6:1-5 in my commentary writing has been killing me. I've been working on these five verses for four months. I got stuck on deuteroproto in Luke 6:1 for three months, and then for the past month of so, I've been studying up on the title "son of man" in Luke 6:5. I have finally come to a conclusion, tentative as it may be. Here is what I concluded:
When Jesus speaks of "the son of man," he is referring not only to himself, but to all humanity as well. A theologically-guided dynamic equivalent translation of "the son of man" could be "I, and all humanity with me."
I have posted my brief explanation over in the Grace Commentary Dictionary, and would appreciate your feedback.