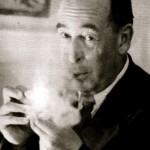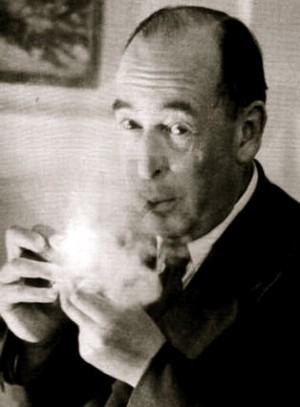 Tell me if you recognize this story:
During a war, some children are sent to a relative's house in London while the father is away at war and the mother is sick. While there, they come by a piece of jewelry which magically takes them to other places. In one of these places, they encounter a Queen who knows magical words of power.

Through a series of circumstances, when the children return to London, the Queen comes with them and causes great havoc in London.

After they get her out of London and back into her own land, they journey to other lands where they witness the rise and fall of nations and empires. They finally return home, and their father returns, and the mother gets well, and all is at peace.
If you said, "Oh, that is The Magician's Nephew
by C. S. Lewis" you'd be wrong.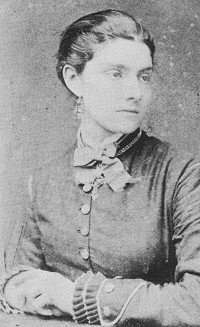 It is actually The Story of the Amulet by Edith Nesbit. There is a lot more to this story than what I told above, but it was published by Nesbit in 1906. The Magician's Nephew, written by C. S. Lewis in 1955  contains several elements that are remarkably similar, and Lewis read Nesbit's stories when he was a child.
Not only this, but my favorite story by C. S. Lewis (and his as well), Till We Have Faces, turns out to be a slightly modified version of the Greek myth, Cupid and Psyche.
So apparently, if you want to write like C. S. Lewis, find some old stories that barely anyone has ever heard of, and then retell them, changing some of the details and names. Some might call this plagiarism, but it really isn't, if the book you are "retelling" is now in the public domain.
Do you have a problem with C.  S. Lewis doing this?
I did at first.
Until I sat back and thought about it. Then I realized that there are really only three stories anyway, and all stories are a variation on them.
Three Types of Plots
Redemptive Violence
Redemptive Violence is the idea that what is wrong with the world can be fixed with violence toward those who made it wrong. Most action and western movies fall into this theme.
Returning to Utopia
Returning to Utopia is the idea that through some method of leaving society (time travel, magic, pilgrimage, peaceful revolution, changing laws, etc), the world can once again become the way it should be. A lot of sci-fi movies fall into this category.
Resurrection of the Dead
A person is on the brink of death (or ruining their life,  living without purpose, etc.), and something happens to bring new meaning and significance to their life. Nearly all love stories fall into this category.
Notice that all three are about getting back something that was lost, it is just that the methods are different. The first uses violence, the second uses something otherworldly or supernatural, the third uses love, generally from others.
What type of story do you enjoy the most?
What type of story, do you think, is the Bible?
---