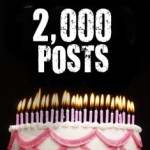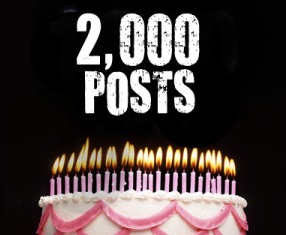 It's my Birthday (in a couple days, anyway), and I want to thank you for the great Birthday present.
I also want to give YOU a present (Read on to find out how to win some of my paperback books. I'm giving away 65 of them.)
Did you know you gave me a Birthday present?
You did.
What was it?
You read this blog.
Thank you very, very much. You have no idea how much it means to me. (Keep reading to find out how I am celebrating.)
And you know what else? This post is my 2000th post.
Yes, since this blog began, I have written 2000 blog posts!
Below are some other milestones we have passed along the way…
NONE of this is to brag or boast, but just to say thank you for the Birthday presents… Every time you read a blog post, it is like another gift to me. A gift of your time, your eyes, and your mind. Thank you.
The website has received over 3 million pageviews.
I'm getting nearly 200,000 per month now…

The website has received over 23,000 comments.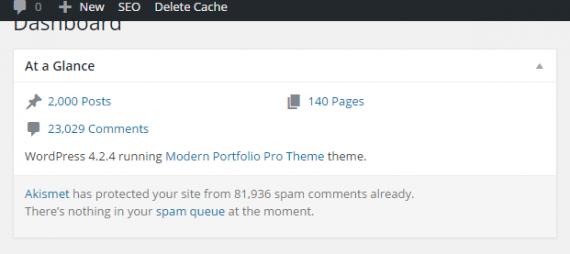 I have published 12 books.
Click the image below to see my books on Amazon…

More to Come!
I am nearly done with my next book. It is a book on the atonement. The book is done, but I am just working on two appendices, and then it goes into the editing and layout phase…
As always, those who subscribe to my email newsletter will get a free digital copy when it comes out. So make sure you are a subscriber!
Also, I have a super exciting announcement in early September… (So stay tuned).
Get Presents FROM ME for my Birthday
As a way of celebrating my Birthday and my 2000th post, I am giving away over 50 paperback copies of some of my books, plus 15 copies of a book from a friend of mine. So, your chances of winning are pretty good…
Of course, I will not be shipping out over 65 packages… I will make up about 15 "sets" of books, and send those to the winners.
If you want to win free paperback copies of several of my books, enter below: You can enter every day, and the contest is over on September 3, 2015.
[This contest is now over…]
Please share this post using these buttons as well. Thanks!
[easy-social-share counters=1 style="icon" fixedwidth_align="center"]
Thanks again for reading, and I look forward to the next 2000 posts!