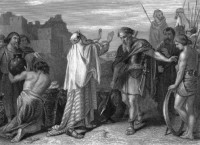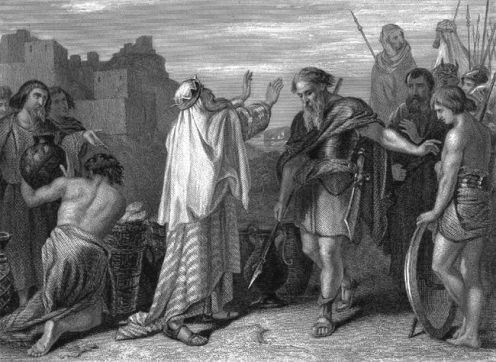 One of the most famous passages in Scripture about tithing is Genesis 14:18-20.
Genesis 14:18-20
In this passage, Abraham's nephew Lot has been taken captive by an invading army. Abraham gathers his trained men and pursues this army to rescue Lot. Abraham is successful, and returns from the battle with Lot, Lot's family, all the people who had also been taken captive, and all the goods and possessions which had been carried away. On their return trip, Melchizedek, the King of Salem, comes out to meet them and he blesses Abraham and blesses God. In response, Abraham gave to Melchizedek a tenth (or a tithe) of everything. And that is everything that this text says about tithing. One little line.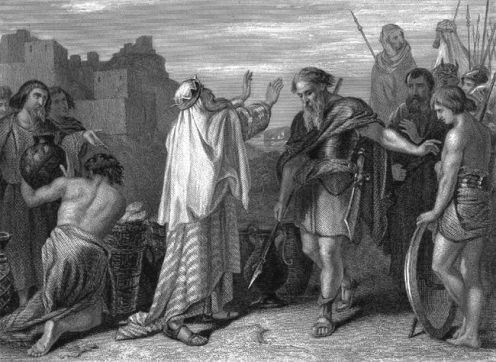 Hebrews 7:1-10
This passage would probably not be so prominent in the tithing debate if it were not for the comments on this passage by the author of the book of Hebrews. In Hebrews 7, the author of Hebrews makes the claim that Jesus is superior to the Levitical Priesthood. He begins this argument in 7:1-10 with a rather complex discussion about who has the right to receive tithes, and that Melchizedek is superior to the Levitical priests because through "the loins" of Abraham, the Levites paid a tithe to Melchizedek. Frankly, the whole argument sounds somewhat silly to modern ears, but was quite consistent with Hebraic ways of thinking about their ancestors and helps solve the dilemma about how Jesus could be our High Priest even though He was not of the Tribe of Levi.
Ultimately, Hebrews 7 is not at all about tithing, but is about Jesus being a superior High Priest. Nevertheless, this text is often brought up in connection with Genesis 14:18-20 to defend the practice of tithing in churches today. It is argued that Abraham gave a tenth of his income to Melchizedek, and that since Melchizidek is a "type" of Jesus, then Abraham, and all descendants of Abraham, whether physical descendants by blood or spiritual descendants by faith, must also tithe to Jesus. A pastor who teaches the passage this way will argue that we give our tithe to Jesus by giving it to the priestly representative, which in our day is the pastor or the church.
No Command on Tithing
But notice that this is not at all what these Scriptures are saying or teaching.
First, nowhere is there a command in either text for subsequent generations to follow the example of Abraham. In both Scriptures, Abraham's tithe to Melchizedek is described, but not prescribed. We are told what Abraham did, but we are not told that all people must do the same thing. If we are going to read a law or command into this text, we must invent it.
But secondly, we have even missed what the text says about Abraham's tithe. Genesis 14 implies what Hebrews 7 makes explicitly clear: Abraham gave a tenth of the spoils of war to Melchizedek. This was not a tenth of Abraham's possessions, nor was it a tenth of Abraham's annual income, nor was it even a regular offering which Abraham made to the local priest. This was a one-time gift from possessions which Abraham had just captured in war, the remainder of which, he returned to their original owners, the kings and people of Sodom and Gomorrah.  Technically, Abraham gave 10% to the King of Salem, and 90% to the King of Sodom. He did allow his own soldiers to take a portion as well for payment, but we are not told how much that was (Gen 14:24). There is no instruction, command, or requirement here given to all people of all time about the necessity to give 10% of their income to God, to a minister, or to a church. Even for Abraham, this was only a one-time gift of possessions he had captured in war.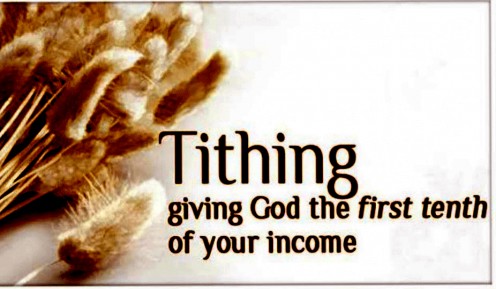 Numbers 31:25-30
By the way, there is one other example in Scripture of a portion of plunder being given to priests after a war. The event is in Numbers 31:25-30. The Israelites went and attacked the Midianites and captured all their possessions. Upon their return, God told Moses to tell the Israelites to divide the spoils into two parts: half should go to the soldiers who went out to battle, and the other half should go to everyone else. But after they divide the spoils for distribution, everybody was required to give a portion to God by giving it to the priests. And how much were they to give? The soldiers were to give 1/500th and everybody else was to give 1/50th. Together, the total "tithe" given to the priests in this case comes to 1.1%.
It is interesting that while the passage where one person gives 10% of the plunder to the Priest is a popular passage on tithing, this passage where all the people of Israel give only 1.1% of the plunder to the priests is not a popular passage on tithing. I doubt you will ever hear this second passage ever preached on as an example of how much of your money you should give to the church. And yet, when it comes to examples of people giving money to the priests, this second example from Numbers is arguably stronger, since all the people of Israel were involved, and not just Abraham.
No Command on Tithing
In both passages, however, there are no instructions or commands for God's people, either then or now, to give a portion of their income to God by giving it to the priests. Both are simply examples of gifts that were given to priests from the plunder that was taken in war. In neither case is anyone consistently tithing of their income to support the work of God.
---