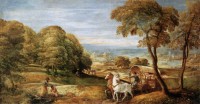 There is one passage in the book of Acts that initially seems to challenge this idea that baptisms were intended to be a public demonstration of a life-changing decision which would cause others to ask the baptized person about what they had changed. This is the passage about the Ethiopian Eunuch in Acts 8:26-40.

The Baptism of the Ethiopian Eunuch
According to Acts 8:27, this Ethiopian was a Eunuch of great authority under Candace, the Queen of Ethiopia. He had charge over the entire royal treasury, which indicates he was a high-ranking public official in the royal courts of Ethiopia.
Philip overhears him reading from Isaiah and offers to explain the Scripture. After doing so, the man believes in Jesus, and Philip takes him down to some nearby water baptize him. Note that if this man was a proselyte to Judaism, as the text hints that he was (cf. 8:27), he would have already been baptized into Judaism. Now he was getting baptized again, this time into a full identification with Jesus Christ.
How was this a Public Demonstration?
But the question is this: How could this have been a public identification with Jesus if nobody witnessed the baptism except for Philip? The way this passage is usually presented in sermons and drawings is that Philip and the Eunuch are all alone on a deserted road, and the two of them go down into the water to be baptized. If this Ethiopian Eunuch was all alone and far away from home, then nobody would have seen or known what he did on this deserted road in Israel, and therefore, his baptism could not have been a public testimony to anyone.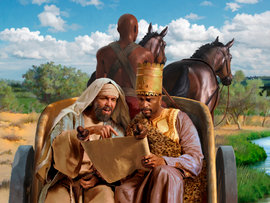 And yet it is highly unlikely that this Eunuch was alone.
First of all, he was a powerful public official in Ethiopia, overseeing the entire treasury. It is quite certain that he was traveling with an entire retinue to servants and body guards.
There is even a hint of this in the text where we are told that he was sitting in the chariot reading Isaiah while someone else drove. After all, when he wanted to get baptized, he commanded that the chariot stop (8:38).
Clearly, there were others traveling with the Ethiopian Eunuch who would have seen him get baptized, would have asked him about it on their journey back to Ethiopia, and would have observed his life and actions to see what differences (if any) followed as a result of the Eunuch fully identifying himself with Jesus.
So this baptism also was a public declaration by the Ethiopian Eunuch that he was making a drastic change in his life by dying to his past, and was fully identifying himself with the life and example of Jesus Christ.
---