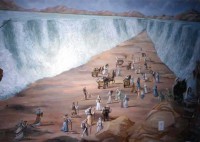 The word "baptism" is not a translation of a Greek word, but is a transliteration of the Greek word baptizma. In other words, rather than translate the word into English, Bible translators just carried the Greek letters over into English, and left it at that.
This does not help us when we try to figure out what a Biblical author is talking about when he writes about "baptism."
But when we recognize (as we saw in the post yesterday about the definition of baptism) that "baptism" means "immersion into" or "identification with" some of the tricky passages in Scripture become much more clear.
Baptized into Moses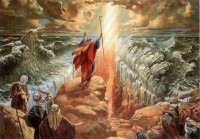 Take, for example, 1 Corinthians 10:2 where Paul writes about the Israelites being "baptized into Moses in the cloud and in the sea."
What does this mean?
If we think of baptism only as getting dunked under water, Paul's statement is difficult to understand.
But when we understand the word baptism to mean an immersion or a complete identification with something else, the statement becomes clearer.
God protected the people of Israel by use of the pillar of cloud and fire, and God helped them escape through the sea to escape the Egyptian army. But both of these protective actions were mediated by Moses. Divine protection was sent from God in response to the prayer of Moses on behalf of the people (Exod 14:10-31).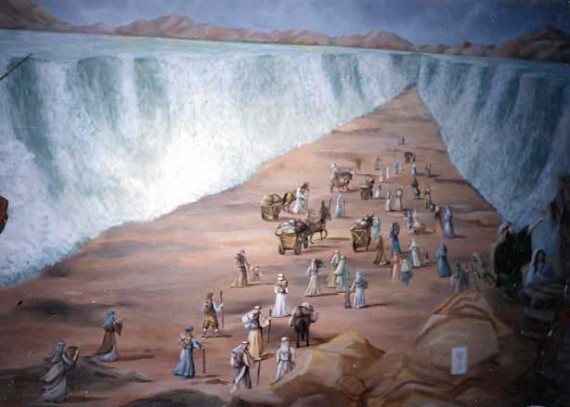 As a result, the people came to believe in God and in Moses (Exod 14:31). They saw that Moses was God's servant, and that their survival depended upon Moses interceding to God for them. Every time there is a problem, they go to Moses asking him to intercede for them. Every time they sin and God thinks about destroying the Israelites, Moses begs for God to forgive them.
Fully Identified with Moses
From the events at the Red Sea, the people of Israel fully identified themselves with Moses, and he with them. In the cloud and in the sea, Moses and Israel became one.
Something along these lines would probably make a better translation of 1 Corinthians 10:2, "Israel fully identified itself with Moses in the cloud and in the sea."
In support of this idea, Paul goes on in 1 Corinthians 10:3 to write about how they all acted as "one" after this, eating the same food and drinking the same drink. He goes on to warn that this "unity" only goes so far, and addresses some issues that the Corinthians were facing.
But the point for us here is that the "baptism into Moses" has nothing to do with we normally think of as baptism.
Tomorrow we will look at some other tricky texts about baptism that become more clear when we understand the definition of baptism as "immersion into" or "identified with."
---