Below is the fourth letter in the series, "Letters To Dad." They are written by Sam Riviera, and are based on the true stories of people he actually knows in real life.
Dad,
You probably thought you'd never hear from me again. Well, it's me. I'm alive.
But now I'm somewhere where you can never find me or hurt me.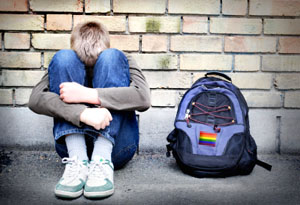 There's a public library near here where I can get on the internet. I check Facebook. Sometimes I see your posts. I read that you found out I'm gay. Did you really say "He's better off dead if he's gay"? What is that supposed to mean? Is that some kind of threat? To your own flesh and blood? You want me dead? Seriously?
I didn't have a choice to be born. I didn't get to choose who my dad is. I also didn't get to choose that I'm gay. Regardless of what you think, I didn't choose any of those things.
I wasn't kidnapped. I had been planning my escape for a long time. I had to get away from you. Why? You scare me. Actually, you terrify me. I figured sooner or later you were going to find out I'm gay. I had to get as far away from you as possible before that happened.
Now that I see what you wrote on Facebook, I'm glad I ran.
I didn't want you trying to beat demons out of me. That's what you said. "If I ever find out any kid of mine is gay, I'll beat those demons out of them if it kills them." You said that.
Seriously? You think I have demons in me? Why are you such an angry person? You need help.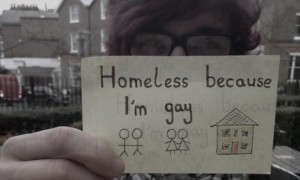 Where did you learn this stuff, anyway? From those homophobic guys you work with? You know that some of them are gay, don't you? Seriously, dad. Some of them are gay. Don't you know that? You have gay neighbors and gay relatives and gay coworkers. Which of them are you going to beat the demons out of? That could get you some serious jail time.
You said the Bible says gay people are abominations and should be stoned. Nice. Is that supposed to be Christian love? Where did you learn that? That is sick. And frightening.
Anyway, not that you care, but I'm surviving. For now. I've hooked up with some other kids in similar situations. About half my group is gay. Some got thrown out by their parents when they came out. The rest of us took off before our parents found out so we wouldn't get the crap beat out of us.
We live outdoors most of the time. We steal to survive. We panhandle. Some of us sell drugs. Some of us sell sex. Don't be surprised. Stealing, begging, addiction, dealing drugs, selling sex, and being homeless is our lifestyle … chosen for us by our parents … by dads like you.
Oh, and add dead to that list. Our lifestyle makes for a short lifespan. Suicide, overdosing, disease, getting stabbed, shot or beaten to death, or dying from exposure on cold nights is our lifestyle.
I'm not really mad at you. I'm seriously afraid of you. Thinking about you hurts. You are my dad for God's sake. How can you be like that? How could you sentence me to a life like this? You're the one who made that choice. You chose. I didn't. You cut me off. You threatened my life. You're responsible for me being on this earth. You brought me here. Now you want me dead?
One of my group read online that kids like us have a lifespan of four or five years at most. Maybe I'll beat those odds. Maybe not.
Seriously, Shaun