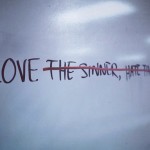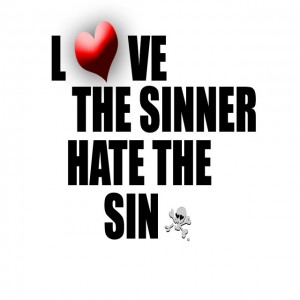 It is common in Christian circles to hear admonitions to "Love the Sinner; hate the sin."
More and more I hear this said in the context of LGBT people and gay marriage.
"Oh, I don't hate gay people, I just hate the gay lifestyle. … You know, I love the sinner, but hate the sin."
There are so many things wrong with the "Love the Sinner; Hate the Sin" statement, I hardly know where to begin. So let's begin with a laugh:

Now… on with the post…
There are several things wrong with the statement, "Love the Sinner; Hate the Sin."
Let's begin with the word "sinner"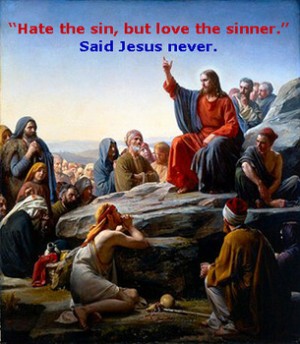 The simple fact that we label the person we are talking about as a "sinner" indicates that we do not have love for them in the first place.
To label someone a "sinner" is to imply that they are outside of God's grace and unless they clean up their act, cannot be forgiven.
To label someone a "sinner" reveals an "us vs. them" mentality, where you are the "righteous" person looking down your nose at the poor, wretched, ignorant "sinners" down below who just cannot get their act together. If only they would listen to what you tell them to do…
We Christians pay lip service to the idea that "We are all sinners" but we reveal that we do not really believe this when label someone else a "sinner."
By labeling them a "sinner," we condemn the sin of someone else as worse than our own.
Then there's the word "hate"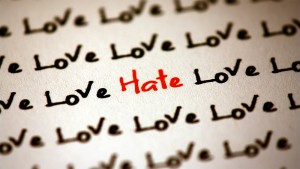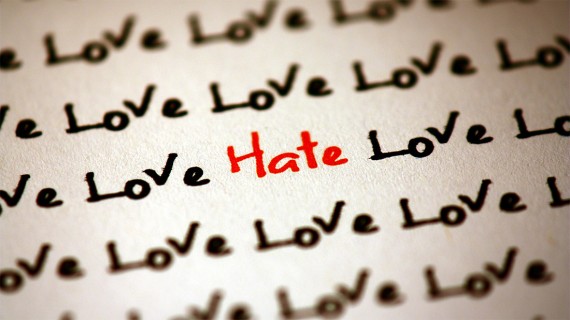 When a watching world says Christians are full of hate, it is not a good strategy to tell them that we don't hate them we just hate their sin.
Why do we have to "hate" anything?
Is it because God "hates" sin?
Well, there are some statement like this in the Bible, but such statements require great care in understanding and applying them to life.
We have to understand why God says what He says.
We also have to recognize that even if God does "hate" (which I don't think He does … at least, not the way we understand it), He doesn't anywhere tell us to hate.
Furthermore, we have to recognize that when God uses this sort of language about certain sins, it is not because He that upset at the person for committing the sin, or even at the sin itself for being so "terrible." God isn't nearly as worked up about sin as we are. God is not in the sin-management business.
The reason God says some strong things about certain sins in the Bible is because these sins hurt us, and He loves us, and doesn't want to see us hurt by sin.
So if you really, really want to hate someone's sin, hate a sin which is actually hurtful to them and to others. Hate a sin like rape, murder, incest, child abuse, torture, sex slavery, or one of the other multitudes of damaging and destructive sins.
But why do we Christians sometimes focus on hating the "sins" in others that they say results in love and community? If a homosexual couple wants to get married because they say they love each other, why would we say they cannot?
"Because it destroys families!"
Really? How exactly does their love hurt your family? I suspect any problems in your family might be found a bit closer to home…
"Because it destroys the definition of marriage!"
Is it really? And even if it does, so what? What is more important? The definition of a word or a relationship between people? Don't use an argument over the definition of a word as an excuse to hate people. That sounds an awful lot like something a Pharisee would do in the days of Jesus. Even if the definition of marriage changes, will that somehow ruin your marriage? I cannot possibly think how.
"Yeah, but … but … AIDS!!! They're gonna get AIDS and AIDS will hurt them and so I'm just trying to warn them about the dangers of AIDS! You see? I am concerned about them! I don't want them to get AIDS!"
… If this is how you express your concern, I think they don't need it.
I could say so much more about this, but I must move on. Here is a post which says more: Love the Sinner, hate the sin is really just hate

There is also a problem with the word "sin"
Yes, yes, "sin" is a biblical word. No, I don't want people to stop talking about sin.
But here is what I have noticed in my own life, and among the majority of Christians.
We all have our "favorite sins" we commit.
We have sins we ourselves commit all the time that we don't bat an eyelash at. And when someone point out to us the sin in our own life, we say, "Well, Christians aren't perfect, you know." Or maybe we say, "Thank God for grace!" Or possibly, "Yeah, I know that's an issue, but God is working with me on that." Occasionally, we may even justify our behavior and says, "What?! No, that's not a sin! Stop judging me!"
Lots of these "favorite sins" in Christians circles are even "Pulpit approved." That is, pastors and churches leaders raise up these "sins" as virtues to be acquired.
The sin of pride is called "healthy self-esteem."
The sin of gluttony is called "Respecting the wife's cooking."
The sin of laziness is called "relaxing after work."
The sin of greed is calling "planning for the future."
The sin of national idolatry is called "patriotism."
The sin of hate is called "warning them of the fires of hell."
The sin of anger is called "standing up for what I believe."
And so on.
These are our favorite sins, and we have baptized our sins to make them acceptable and even praiseworthy. And even when our sins our not praiseworthy, we allow ourselves excuses which we never allow to anyone else.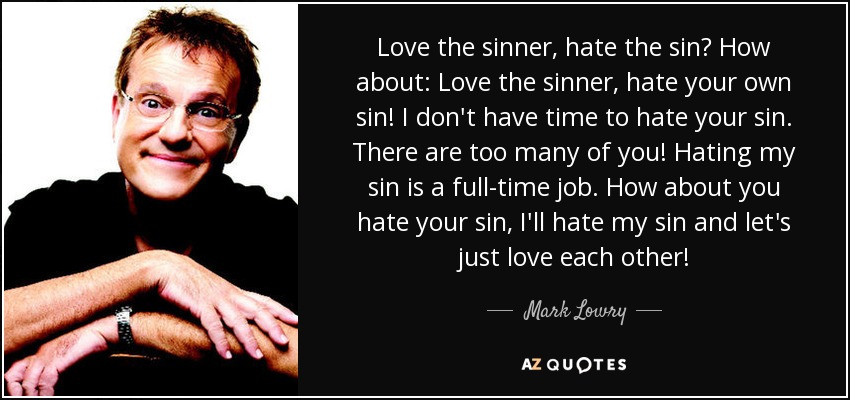 And then we have our "favorite sins" we like to point out in others.
These sins are ones we typically do not commit, but we use these to make ourselves feel better about our own sin. How? We point them out in others and condemn them and their sin for all the problems in the world and in society.
Ironically, when we point out the "sin" in others, we hardly ever allow them to use the same "excuses" toward us that we use toward others about the sin in our own lives. We tell them that their sin is worse than ours. That their sin is destroying the unity in the church. That their sin is bringing down our country. That their sin is perverting our culture. That they better fix their life right now, or God is going to kill them and punish them and send them to hell to burn forever.
More ironically still, the favorite sin we love to condemn in others the most are usually the sins that are mentioned by Scripture the least, whereas the "favorite sins" we ourselves commit are the sins that get a lot of attention in Scripture.
Take the most popular "sin" in America to condemn right now: homosexuality. It is mentioned 3 times in the Bible (6 times at the most, depending on how you want to understand a few terms).
But how often are greed, pride, slander, gluttony, anger, and hatred mentioned? I don't know, but it's probably in the hundreds for each one.
So why have we picked out this one "sin" as the one to focus on?
Because we need a scapegoat to blame for our own sin, and the "other," the "outsider," the "one who is not like us," is always the person who gets chosen to be the scapegoat.
So to bring this back around…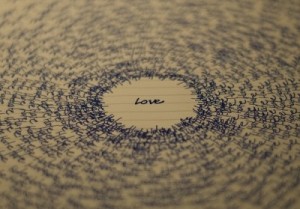 When we say, "Love the sinner; hate the sin," what we are really saying is "I will love only those I want to love, and I will hate and despise and cast out those people who do things I have decided are worse than the things I myself do, and this way I can make myself feel better while I condemn them for all the problems that I myself have contributed to but don't want to admit."
That's my problem with the word "sin" in that statement. It sets us up in the position of God to decide which sins are worse than others, and which sins can be overlooked and which cannot. It makes us the arbiter or grace and forgiveness.
Which is the worst sin of all? When we say "Love the Sinner; Hate the Sin" we ourselves commit the worse sin possible, by setting ourselves up in the position of God to decide which sin is acceptable and which is not. We Christians must repent of this self-idolatrous, scapegoating judgmentalism of others.
And finally, the entire "Love the Sinner; Hate the Sin" statement is complete BS
If you just take the statement as a whole, it makes no sense.
People are complex creatures, and psychologically and emotionally, it is nearly impossible to separate what a person does from who a person is. This is especially true when a person is the way they are because they were born that way.
Forget homosexuality; take obesity as an example.
Many people who are overweight say that they were born with a slow metabolism, or they have some sort of disorder. Or maybe they went through some difficult times in life that were out of their control and psychologically turned to food for comfort. Or maybe they were just born with tastebuds and a stomach that really liked to eat good food.
Now imagine going up to such a person and saying, "Overeating is a sin. I love you, but I hate your fatness." How will such a person respond?
I believe that person will be rightly offended.
Here's the bottom line: If you love someone, you love all of them — even the lifestyle choices that might have resulted from sinful actions and behavior.
This does not mean you have to agree with what they do, but instead, you simply view the things in their life that you don't agree with the same way you view all the sinful habits and choices you make in your own life.
And how do you want people to view you and your sin? You want to be loved while others withhold judgment.
This also is how you should view others who do things, say things, or live in ways that you think are "sinful." Just love them, and withhold judgment.
And look, if you really want to start judging some sin somewhere, start with the whole mess in your own life first. Stop pointing out what you think is the sinful behavior in other people, and instead, work on the stuff in your own life.
I think Jesus said something about that… (You know … something about specks in their eye and a log in your own?) And when the Bible does talk about the relationship between love and sin, it says that love covers a multitude of sins. Hmmm…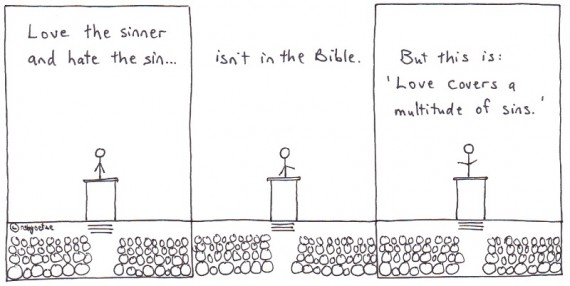 The One Word I Like
So when it comes down to it, the only part of the "Love the Sinner; Hate the Sin" statement that I like is the word "love."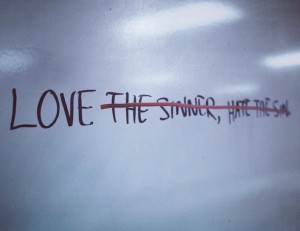 And why can't that be enough? When we see someone else behaving in ways we don't approve of and which we think is sin (and as long as it's not illegal or harming someone), why can't "love" be the only word that comes to our mind?
Apparently, Jesus loved this other person enough to die for them. And if He loved them, why can't we?
So the next time you are tempted to say you "Love the Sinner; hate the sin," just stop at love.