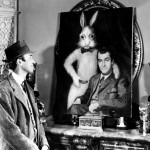 This is a guest post by Peter Rouzaud. Peter recently started reading this blog, and then later discovered that he and I live in the same town! So we met for coffee and he shared with me some of his articles he has written. Below is one of these articles.Peter has also written a book called Finding Perfect Peace
which can be found on Amazon.
Have you ever seen the movie "Harvey"?
It's a great old movie, staring Jimmy Stewart. Stewart plays Elwood P. Dowd, an eccentric whose good friend is a seven-foot rabbit that talks. The only problem is that Dowd is the only one that can see or hear his friend Harvey. Understandably, this creates lots of problems for Dowd.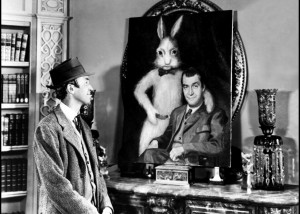 Now just imagine if this were possible: Imagine that you had a friend that no one could see, no one else could hear, yet whom you could see and hear perfectly. How would this make you feel? Among other feelings, I think it would make you feel special. But you would certainly have trouble communicating to others who and what your friend was.
This, I think, is a great example of 'faith in Christ.' No matter what I say about Him. No matter how passionate I am in my explanations, it is impossible for me to adequately describe who Jesus is to me. I may say to you, "Jesus told me something today'. Or, "Jesus is helping me in this way today." Or, "Jesus did something very great in my life today."
If you grew up in the church, you might understand what I mean. On the other hand, you might look at me as if I said that Harvey the seven-foot rabbit did and said all these things.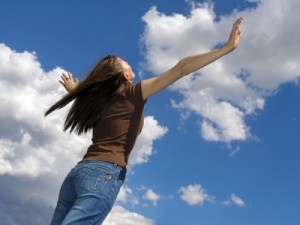 Each of us have experiences with Jesus that make sense to us, but which are difficult, if not impossible, to explain to other people. But this does not mean our experience with Jesus is a figment of our imagination.
Spiritual Experiences and the Christian
Before I go on, let me say that I am not advocating or promoting purely unsubstantiated, subjective experiences. Every religion has it's esoteric experiences. Voodoo has its emotional trances. Mormonism has its 'burning in the bosom.' Pentecostalism has its tongues and prophetic utterances. All these use such experiences to claim legitimacy and to validate the "faithful." But this is not what I am talking about.
Neither am I saying that 'all personal experiences are somehow OK and right for the individual and we should not judge others experiences; because they are just as legitimate as our own.'
No, what I am saying is that God can give you an experience that is unique to you, and He can give me an experience that is unique to me. And just as I have to trust my experience, you have to trust your own! And just as neither one of us can fully understand or share the experience of the other, so also, neither one of us can directly challenge or invalidate the experience of the other.
A Validation of Your Experience with God
Here are some thoughts which validate your unique experience with God:
It's is impossible for God to lie (Num 23:19)
God said that if you seek Him with your 'whole' heart you would find Him (Prov. 2:1-10)
Jesus said that God wants us to worship Him is Spirit and in truth (John 4:24)
The apostle John said that the Spirit of God would lead us into all truth (1 John 2:27 )
Jesus said that , 'all that came to Him, he would not cast us out (John 6:37)
Jesus said that he would actually live inside us by his Spirit (John 14:16-17)
Essentially, all religion is subjective; none of it can be scientifically proven to be genuine.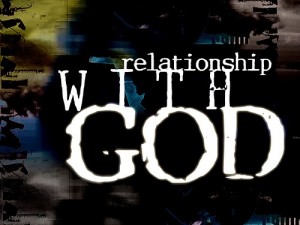 This is not to say that all religion is valid; only that God is the one that judges its validity. But aside from its subjective nature, pure religion must have its source from God. And if the source is from God, I don't have any control over your experience. I may have an opinion about it, but ultimately, your experience is between you and God.
Experience is a part of Relationship
God wants a relationship with his children (us humans). But just as with any relationship, there are conditions for how that relationship begins and continues.
But a problem arises among Christians when I begin to think that the conditions and experiences of my relationship with God are normative for all other children of God. We get into trouble if I think that my relationship with God is what every other relationship with God should look like.
But this expectation does not match any other relationship in life. While there are similarities in all marriages, no marriage relationship began or continued to develop like any other marriage relationship. Every marriage is unique. In the same way, While there may be some similarities in all parent-child relationships, no parent-child relationship progressed or grew like any other parent-child relationship.
So if my marriage looks nothing like your marriage, do I have any right to say that you are not, in fact, married? No!
But this is what we sometimes to as Christians.
I look at how I became a child of God and if your story of how you became a child of God does not match up with mine, I might be tempted to think that you are not, in fact, a child of God at all! Or if I have certain experiences in my relationship with Jesus, but you don't share those experiences at all, I might be tempted to think you don't have a relationship with Jesus. In both cases, you might think the same thing about me. And if we get to arguing about this, it's going to cause divisions and problems.
Thankfully, God has it all figured out
One thing we can be sure of, and this is what we must hold to, is that God knows every man intimately, and He promised to reveal Himself to any man who wants to know Him.
So it matters little what I think of your experience with God. Nor does it matter what you think of my experience. What matters is what God sees deep down in our heart.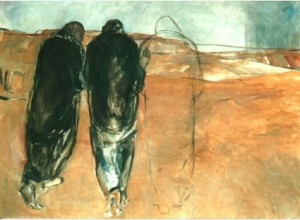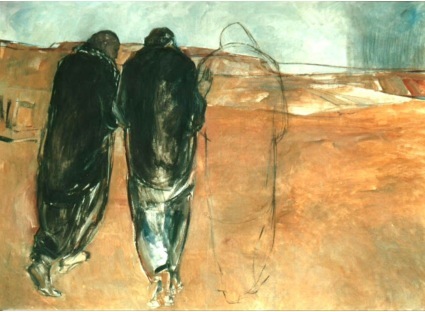 The tricky part, however, is what we see from Elwood P. Dowd. Though his belief in Harvey made him different, I am certain that it is not God's intent just to make us different from the world. His intent is more complicated than that.
I have found that my relationship with God does make me different, but there is the huge distinction. Harvey made Dowd different according to Dowd's own propensities, but Jesus makes each of us different according to God's propensities and His character. This is never easy, and there is a strong part of me that continually fights this change. But change I do, not just outwardly, but deep inside.
And, by the way, this is how I know that my relationship with my "invisible friend" is genuine: my propensities change into something I never wanted or imagined.
To try to convince anyone of this subjective experience is futile, and a waste of time. The fact is, God does a better job, we only need to ask Him to reveal Himself to us, and if our heart is honest, He will.
Are you uncomfortable with comparing your relationship with Jesus to Dowd's relationship with an invisible, talking rabbit? Explain why in the comment section below.
Or maybe it gives you comfort to know that your relationship with Jesus has been tailor-made to fit you and your personality, and to bring you into a deeper relationship with God, so that what you experience with God will not ever be duplicated or matched by any other person you encounter? Maybe this gives you the freedom to stop trying to "measure up" to the experiences of others.