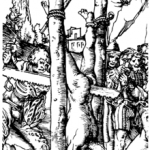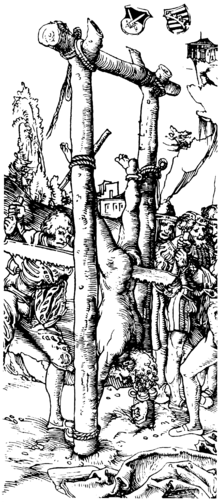 In Acts 7, Stephen presents his defense for why he is a follower of Jesus. At one point in his speech, he says this:
Which of the prophets did your fathers not persecute? (Acts 7:52)
In other words, "Name me one prophet that our ancestors did not persecute, despise, and reject."
What is Stephen saying? He is saying the same thing that Jesus said: "Prophets are never accepted in their hometown" (Luke 4:24). Yes, and maybe not in their home country, or even their home time era.
And "never accepted" is an understatement. Many of the prophets were hunted down, arrested, starved, tortured, and killed.
But let's do a little thought experiment about prophets
Put yourself back at the time of Stephen. Imagine that you are standing there, listening to his speech.
As you imagine yourself there, on that day, as the mass presses upon him murderous rage, where do you picture yourself standing? What are you thinking? What are you doing?
Would you have been sticking up for what Stephen taught?
Or would you have been among those who picked up stones to kill him?
In the image below, where do you place yourself?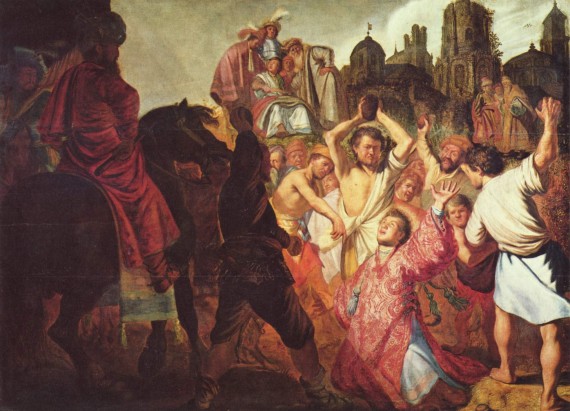 Yeah, me too. I imagine myself among those who stand up for Stephen.
But notice in Acts 7, that the only one standing up for Stephen on this day was Jesus Christ (Acts 7:56). Everybody else present had been caught up on the contagion of violence and picked up stones to kill him.
Hmm….
Well, maybe all his supporters were too scared. Or weren't allowed in to the trial.
But if we had been there, we would have been on the side of the condemned! Right?
But would we have?
If you had been present at the stoning of Stephen, would you have protected him or stoned him?
Let's try a simpler (or harder) scenario.
Imagine yourself living in Jerusalem during the days of Jesus' arrest and crucifixion.
Where do you imagine yourself standing?
Do you imagine yourself standing at the foot of the cross, weeping for how they have crucified your Lord?
Or do you imagine yourself standing in the mob, chanting "Crucify Him! Crucify Him! Crucify Him!"
In the image below, where do you place yourself?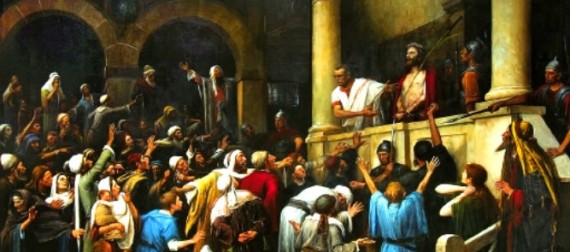 Again, I'm with you. I imagine myself as being among those who had forsaken all to follow Him.
I imagine myself as being among those who stood by Jesus' side no matter what. I imagine myself being among His closest followers.
… Except …
Where were all of his closest followers during the trial of Jesus?
The only disciple nearby was Peter, and he was busy denying and cursing Jesus.
Well then, we definitely would have been there with Jesus when he was crucified. Right?
Umm … Maybe not.
According to the Gospel accounts, it appears that only John showed up at the crucifixion, along with the mother of Jesus and several other women (John 19:25-27).
But you and I? We definitely would have been there, right?
Let's be honest … probably not.
If we consider the thousands of people who just a few days before were wanting to crown Jesus as king (Matthew 21), the fact that only a few of these showed up at the cross does not provide good odds that we ourselves would have been among those few.
Even if we narrow it down to the 72 disciples that Jesus sent out to minister in the countryside, the fact that less than 5 people stood by Jesus as the cross gives us a less than a 7% chance that you or I would have been there. Since most of these were women, if you are a man, your odds are less than 1.5%.
Even among the closest twelve followers of Jesus, one betrayed Him, one denied Him, nine ran away and hid, and only one showed up at the foot of the cross.
So if you had been present at the crucifixion of Jesus, would you have wept for His death or cried out for His blood?
What does this mean?
We who claim to follow God do not have a good track record of recognizing God's messengers, and even when we do recognize them, we have an even worse track record of standing by them when trouble comes.
Statistically, traditionally, historically, and Scripturally, rather than listen to the messengers of God, we are far more likely to reject, despise, slander, condemn, rebuke, persecute, and even kill those whom God has sent to speak His truth to us.
"No! Not us!" we say. "If we had lived in the days of Jesus, we would have recognized Him and stood by His side."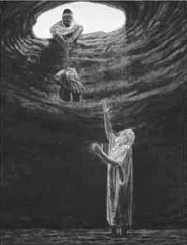 Yes, and that's exactly what the people in the days of Jesus said about the prophets who came before Jesus … right before they turned around and killed Him (Matthew 23:30).
Do we honestly think that you and I would have done any better at recognizing and listening to Jesus (or any of the prophets) than did the vast majority of people in those days?
Most of those people likely knew the Bible better than we do. Most of them probably prayed more in one day than we do in a month. Most of them had vast portions of Scripture memorized. Most of them attended Torah study three or four times a week, and on Saturday they spent most of the day at the Synagogue (the Jewish church) in Scripture study and prayer.
Yet when prophets came, including the Messiah Himself, they didn't recognized or heed any of these prophets, but instead, chased them out of town, made false accusations against them, had them arrested, tortured, starved, stoned, and crucified.
And we think we would have been different?
Honesty demands that we probably would have been among the crowd calling for the death of a the prophet.
Why am I saying this?
Here's why:
If the people in the days of the prophets failed to recognize them as prophets, but instead condemned, accused, judged, criticized, and killed them, and if the people in the days of Jesus failed to recognize Him as the Messiah, but instead condemned, accused, judged, criticized, and killed him, then maybe … just maybe … the way to recognize a messenger of God to us is to look at who we Christians like to condemn, accuse, judge, criticize, and kill … and then consider that maybe … just maybe … these people are God's messengers to us.
If we look at Scripture and history, we see that the reason God's messengers get condemned and criticized and killed is because they never go with the religious status quo, but instead, call on the religious people to repent and change their ways, and abandon the foolish and empty chase after religious rituals and regulations.
The prophets, including Jesus, challenged the temple and its worship services, the sacrificial system to gain forgiveness, the priestly hierarchy to mediate God's grace, the separation of people based on nationality, gender, and wealth, and basically, everything that religion requires to hold itself together.
This is why it typically was not the non-religious, secular "sinners" who reject and condemn the prophets, but the religious people who do so.
So who do you condemn? Who do you judge? Who do you label as a "sinner"? Who is it that seems to be attacking your way of reading Scripture and your understanding of how God "set things up"? Who is it that you accuse of undermining your traditions, of sacrificing your sacred cows?
Might it be possible that these people are really God's messengers to you, that they might be God's prophet?
Might it be possible that your enemy is your prophet and God wants you to listen to those you would rather ignore, and love those you would rather hate?
Have you persecuted a prophet today?
Don't be too quick to answer "No."