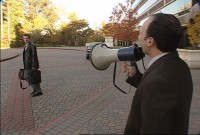 Probably the worst form of evangelism is street evangelism. It comes in several forms.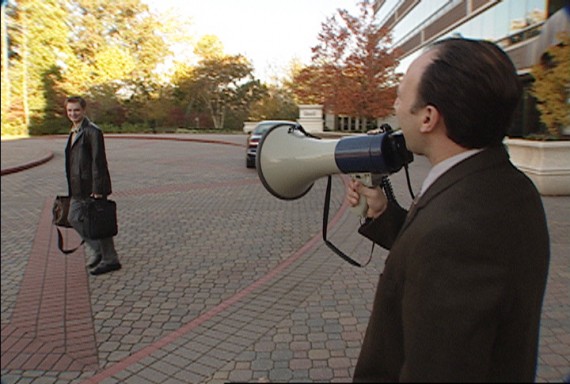 The first type is Bullhorn Evangelism. I know that some people do get saved through these sorts of street preachers, but for every one person who receives eternal life, hundreds more are turned off by such a presentation of Christ and Christianity.
The Evangelism of Red
When I was growing up, there was a street in town with lots of bars on it, and it had a regular patron named Red. And though he was often surrounded by empty beer cans and other assorted trash, he never entered a bar and never had a drink. The bottles and cans were thrown at him by drunk revelers. Why? Because every night he walked up and down the street, waving his Bible in the air and shouting his version of the Gospel through a bullhorn. When people threw bottles and cans at him, Red loved it all the more, because he thought he was enduring persecution for the cause of Christ.
Looking back now, I wonder who was persecuting whom?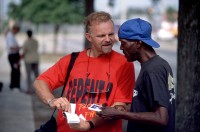 During my Junior year in High School, I went with a friend of mine, Jay Bradford, to interview Red on a Saturday night. We asked him why he kept preaching when clearly, people didn't want to hear his message. He said that he had the message of life, and people needed to hear it whether they wanted to or not. You can't argue with that.
We asked him how long he'd been preaching. Seventeen years. That's a long time, we told him.
How many converts had he seen? His answer: Only eternity will tell. You can't argue with that either.
But how many conversions was he personally aware of within the past year? "One."
One.
One drunk partier had confessed his sins, asked to receive Christ, and then stumbled off into the night, never to be heard from again.
Nevertheless, Red was convinced that countless thousands of others had also received Jesus as a result of his street preaching.
"Besides," he said, "it's my job to preach. It's God's job to save."
You can't argue with that either…. or can you?
I can. And I will…
But until I get to it, what do you think about Red's way of evangelism? Is it effective or not? Have you ever seen bullhorn evangelism? What did you think of it?
---