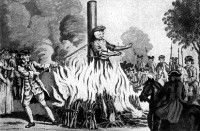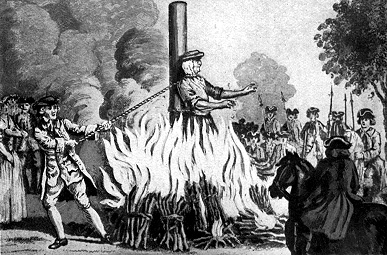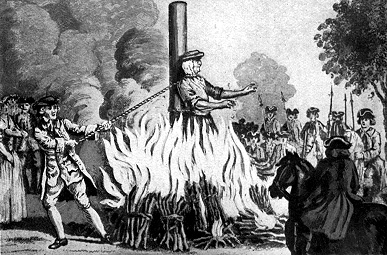 I didn't really get burned at the stake for being a heretic. But I did get "fired" for my theological beliefs.
Kind of.
The story would be amusing, if it weren't so sad. And if it still didn't hurt so much.
My Personal Experience
I was working as an editor and conference coordinator at a Christian non-profit organization. After three years there, I wrote a post on this blog about some doctrines and theological ideas I was reading about and investigating.
The simple fact that I was studying these ideas made the founder of the organization nervous. Though my job performance was faultless, and not a single one of the doctrines I was studying had anything to do with the doctrinal statement of the organization, the founder thought that if donors heard that I was studying these doctrines, support for the organization would decrease. So, he, with the backing of the board, terminated my employment.
One of the board members even said that I should be "thrown under the bus" in order to protect the ministry. Yes, he literally said that. It felt like I was stabbed in the back or burned at the stake.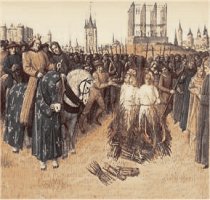 It took me nearly three months to find a new job, and after submitting over 100 resumes to various businesses, I finally landed a job as a carpet cleaner, where I worked 16 hour days at $100 per day. I racked up a lot of debt, my marriage suffered, my health suffered (I ended up needing two surgeries as a result of that job), until finally, ten months after losing my job, I found another one that provided more of a long-term solution for my family's needs.
I don't share this to garner pity or support, but only to show that while we may not kill others over theological issues today, we still can destroy the lives of others when we seek to end their jobs or careers because they took a theological path that makes us uncomfortable. Since that time, I have talked with dozens of pastors and former church leaders who have experienced similar treatment from churches and church leaders in which they used to serve. Katherine Gunn left such a story in a comment just yesterday. How many people called for Rob Bell's resignation when he published his his book on hell
?
We no longer kill, but we still seek to hurt, damage, and destroy—all in the name of "correct theology."
Get Rid of Your Doctrinal Statements
In the next several posts, we are going to see that one way churches can become more loving and less power-hungry and controlling is by discarding their doctrinal statements.
That's right. You should get rid of it. Tear it off the wall. Pull it out of the "Membership Manual." Stop making people sign on the dotted line. Doctrinal statements, while helpful in many ways, have hindered the spread of the Gospel and harmed the advance of the Kingdom almost more than anything else in the history of Christianity. So maybe, instead of burning others at the stake, or burning their books, we should burn our own doctrinal statements instead.
---