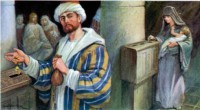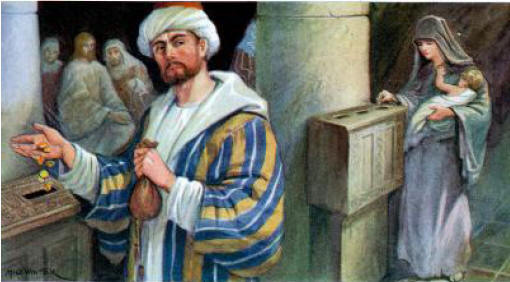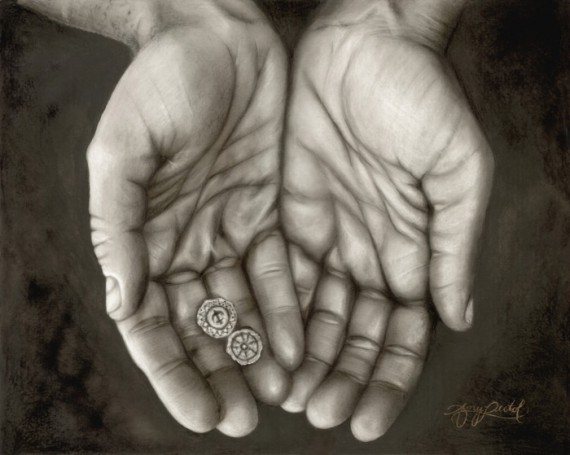 Yesterday we looked briefly at how most people understand the passage about the Widow's Mites, where a poor widow gives her last two coins to the temple. Most people today believe that Jesus praised her for such sacrifice, but the context indicates otherwise.
I think Jesus was actually saddened by what He observed.
Devouring Widow's Houses
The surrounding context of this passage sheds light on how Jesus felt about what was going on in the temple that day. In Mark 12, right before Jesus observes and comments upon the rich giving from their wealth and the widow giving from her poverty, Jesus condemns the religious leaders for their pride, arrogance, self-prominence, and greed. In highlighting their greed, Jesus says that they "devour widows' houses" (Mark 12:40). According to the Law of Moses, the spiritual leaders were supposed to be taking care of the widows and orphans in the community, and providing for their needs (Deut 26:12). But here they are doing the opposite. They are taking away from the widows what little they have left, leaving them destitute, without even a home to live in.
Could it really be that only three verses later, Jesus is now praising the sacrifice of a widow for giving her last two coins to the temple? How can it be? The temple should be giving to her; not her to the temple! They have already taken her house, and now they take her last two coins as well! Jesus is not happy and encouraged by what He sees, but saddened. He is not upset at the poor woman. Far from it! He is upset and saddened at how far the worship of God in the temple has degenerated that the priests and Levites are teaching and even demanding that poor widows who have no homes and no income give up their last two coins to support the work of the Lord.
If we read Mark 12:43-44 again with this perspective in mind, we can hear that Jesus is not amazed and impressed at her courage and her faith, but is almost choking back the tears at how this poor widow has been caught in the lies of greedy deception by the rich and wealthy religious leaders. She is only doing what she has been told to do. She obeys out of faith, knowing that her sacrifice is probably her death sentence. But she loves God so much, she does it anyway.
But it is not her fault. It is the fault of the religious leaders. They have devoured her house and now they are taking her life as well. Asking widows to tithe from their poverty is like using religion to pick the pockets of the poor. The temple should have been giving to her; not the other way around.
Providing for One's Family is Most Important
Earlier in His ministry, Jesus had also criticized the religious leaders for teaching people that it was their priority to give to the temple if this giving deprived a person's family of financial support (Mark 7:10-13). Jesus taught, along with the Mosaic Law, that one's primary responsibility was to support their family. If it was wrong for a person to tithe to the temple while neglecting their family, it would also be wrong to ask poverty-stricken widows to give to the temple, when they had no one to provide for them. This was especially true if this widow had children.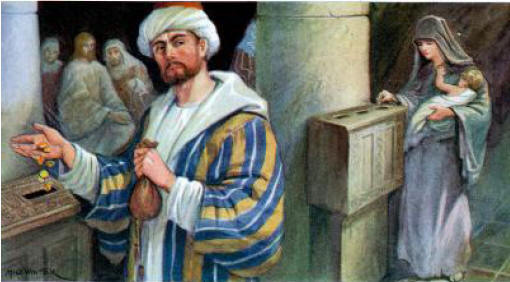 Here is what John Pilch says about this passage in his book, The Cultural World of Jesus
:
Jesus does not praise but rather laments this woman's behavior. She has been taught "sacrificial giving" by her religious leaders, and that is the pity. These authorities promised to redistribute Temple collections to the needy. In actuality, they spent the funds on conspicuous consumption instead: long robes and banquets. This is how they "devoured the estates of widows."
---