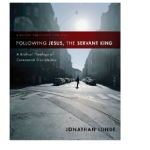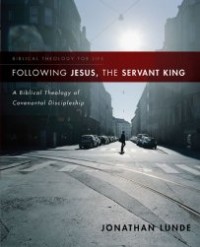 There is a new series of theology books out called "Biblical Theology for Life." Since it sounds somewhat like the theology project I am working on, I was excited to read the volume on Discipleship by Jonathan Lunde. It is called Following Jesus, the Servant King.
After the Introduction where questions are raised about the theological topic, the book has two main sections: the answers to the questions, and the practical reflections for living out the answers. In the book, Jonathan Lunde asked why we should care about following Jesus, what it looks like, and how to do it. He paired the task of discipleship with the biblical covenants, which I thought was an interesting twist. I am not sure I have ever connected discipleship with the biblical covenants in this way.
My favorite portion of the book was where Lunde discussed what discipleship looks like (pp. 115-181). I think this was most exciting for me because it was mostly about the life and ministry of Jesus, and this is a current passion of mine. I really appreciated Lunde's approach of taking key passages from Scripture, and explaining them one by one. I think this is one of the best ways of doing theology, and all my favorite theology books follow this pattern.
As an introduction to what discipleship means and what it looks like, this is a good volume. After reading it, I am also interested in reading the volume by Christopher J. H. Wright in the same series: The Mission of God's People.
FTC Disclosure: This book was a review copy given to me by Zondervan.