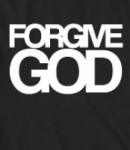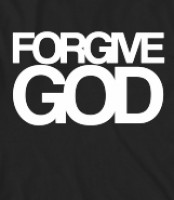 We often think that it is only we who must go to God for forgiveness, but there is a sense in which God asks us to forgive Him.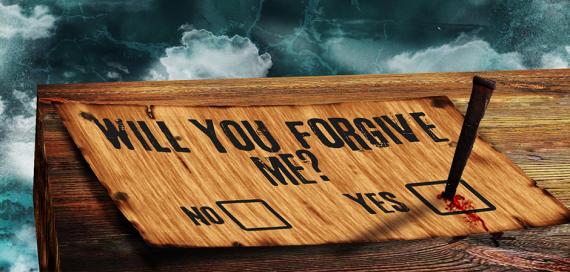 No, it is not that God has sinned, but that He knows how much pain and suffering have come upon the world because of how He set it up to run. There was, of course, no other way the world could function and still accomplish God's goal of having genuine, free relationships with humanity, but still, God in a sense "feels bad" about the way things have turned out, and as part of accepting responsibility for all the evil and violence in the world, on the cross, God also asks us to forgive Him for what has happened.
Some might object that God does not need to say "I'm sorry" for what He does not actually do.
Yet as humans, we do this all the time. One way to empathize with others who are experiencing great loss and pain is to come along side them in their suffering and say, "I am sorry." Is their pain your fault? No, of course not. But saying you are sorry for what they are experiencing helps them know that someone notices their pain, cares about what they are going through, and is with them in their suffering.
Nevertheless, saying "I am sorry" is not the same thing as asking "Will you forgive me?" Yet even here, we have all experienced time sin our lives where we have accidentally caused pain in someone else's life, and though we did not do it intentionally, we nevertheless ask for their forgiveness.
I have three daughters, and my wife and I have taught them that if, in the process of playing with each other, one accidentally hurts another, they should say "I am sorry" and "Please forgive me" even if they did not intend to hurt or harm their sister. Such behavior is expected. Such behavior is godly.
I believe it is on the cross where God shows the entire world that He is sorry for the pain we are experiencing, and He asks forgiveness for His part in this pain. Though He did not cause the pain and suffering (nor was it an accident on His part), because He is the Creator God who made the universe as it is, He accepts responsibility for how things have turned out, says He is sorry for what we are going through, and begs our forgiveness.
Dare we discern anything so outrageous as the idea that here God is making an atonement toward man for all that his desired creation costs man in the making: that he was making love's amends to all those who feel, and have felt, that they cannot forgive God for all the pains which life has foisted, unwanted, upon them?

… Love in God's fashion is indeed outrageous and a scandal because it does stoop and condescend to what, by lesser standards, it need not. Perhaps God in his love stands, not only as the bestower of forgiveness, but as the Father who, for the sake of the created who glory is his desire, even stoops to invite the forgiveness he cannot deserve in order to make it one degree easier for man to be drawn into the orbit of love (Elphinstone, Freedom, Suffering, and Love, 147).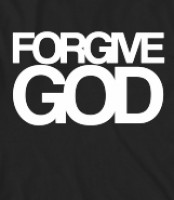 God stooped to become one of us, and took our sin upon Himself, so that He might be both the forgiver and the forgiven.
In Jesus, God asks us for forgiveness, so that we, in Jesus, might both bestow forgiveness to God and receive forgiveness from God.
The God who in Christ was reconciling the alienated uncomprehending world to himself is perhaps more ready than his defense counsel to admit responsibility and show that he is sharing the consequences.

… God does know more intimately than any the price his creatures have been paying for his huge adventure of making this universe of accident and freedom and pain as the only environment in which love could one day emerge to receive and delight in and respond to his joyous love. He still believes the outcome will outweigh the immense waste and agony, not least the agony of his seeming indifference and inaction. So, knowing we cannot understand, cannot forgive, what he is doing, God [in Christ] has come among us a fellow-being and fellow-sufferer to make amends and to win back trust (Taylor, The Christlike God, 204-205).
In Christ, God came to say, "I am sorry."
Do you forgive God?
Do you forgive God for the pain you have experienced?
For the heartache of broken relationships?
For the suffering of sickness and death?
For the sin that rages all around us unchecked and unpunished?
For the loss, the fear, and the anguish of life?
For "not making a better world" (though none better was possible, See Kushner, When Bad Things Happen, 161)?
God has said, "I am sorry. Will you forgive me?" How will you respond?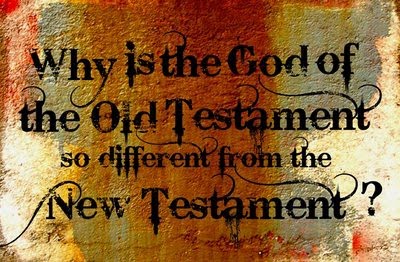 How can a God who says "Love your enemies" (Matthew 5:44) be the same God who instructs His people in the Old Testament to kill their enemies?
These are the sorts of questions we discuss and (try to) answer in my online discipleship group. Members of the group can also take ALL of my online courses (Valued at over $1000) at no charge. Learn more here: Join the RedeemingGod.com Discipleship Group I can't wait to hear what you have to say, and how we can help you better understand God and learn to live like Him in this world!