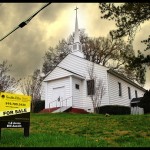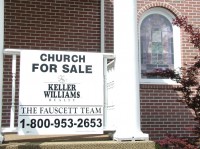 Yesterday, I challenged you to sell your church building. Today and tomorrow, we will look at four groups who might buy your church and what they might do with it. Then in the first part of next week, we will look at the various options a church has if they want to keep their building, but use it in a way that is more missional and kingdom focused.
How to Sell Your Church Building
Some feel that selling a church building is a bad investment. But is it? It all depends on the perspective.
When we own buildings, people associate the church with a building rather than with people.  If we don't own buildings, people may come to understand the church is not about where we meet or what our building looks like, but is rather the people of God living the gospel within the world. With a building, if we grow we have to move or build an addition. If we shrink, we have sell or declare bankruptcy. Without a building, we are more flexible and free to follow Jesus where He leads.
If you do decide to sell your building, one question you may ask—especially if you have a traditional building with stained glass and a steeple—is, "Who would buy it?" Well, you might be surprised. There are a few organizations and businesses that might be eager to buy a place like yours.
We will look at two today and two tomorrow.
1. Sell to yourself.
At the top of the list of organizations that might like to buy your building is your own organization. That's right. You can sell your building to yourself. I don't mean you personally, as the pastor (Though some churches do this, it is a shady practice).
No, to sell it to yourself, a few members of the church could start a non-profit organization that is dedicated to meeting a certain need in the community. As part of meeting this need, the newly-formed organization will need a building that can accommodate large groups as well as small classes. What better location than a church?
Then, as part of its activity in the community, and to maintain its financial integrity, the organization could rent the building back to the church. Depending on the financial situation of the organization, the building could be used for free educational or service needs in the community.
Why couldn't a church just do this on their own? They could, and should. But the sad fact is that many don't. When it comes to church buildings, most church boards are primarily concerned with maintaining the cleanliness and purity of the church grounds. People with beer cans or bad language are not allowed on the premises. So for this option to properly work, the board members of the organization must have a clear vision for serving the community, rather than just being a front for the church to continue as usual. If the organization exists just to keep the church running as usual, there is no point to creating an additional link in the chain, and this option should be ignored.
2. Sell to another church.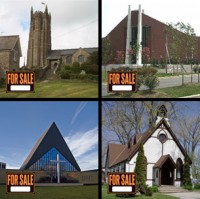 There are almost always other churches in town looking to move from renting a school to having their own building. If you are trying to move in the opposite direction, you may not be too eager to sell your building to another church in town.
But remember, they are not the competition, but are simply on a different path in following Jesus. We are not to judge other servants, but are only to obey the instructions from our own Master. If another church wants to buy a building, and you want to sell one, and both of you believe this will help accomplish your mission in the world, then make the sale. It's a perfect fit.
Oh, and if you do sell it to another church, give them a really good price. Maybe you could even just give it to them, or let them take over the mortgage. That would fulfill all sorts of kingdom principles.
On a related note, two or more churches could also consolidate. It is always sad to see two or three churches in the same neighborhood, each with a building that could sit a hundred people or more, but only averaging 35 in weekend attendance. If two or three of these churches consolidated their buildings (and staff), a lot of money could be saved on mortgage payments, with the extra funds going toward meeting needs in the community.
Tomorrow we will look at two other groups who might buy a church building, and then we will look at what you can do if you want to keep your building, but use it in a more missional way. If you haven't done so already, make sure you subscribe to the posts so you don't miss a single one.
---