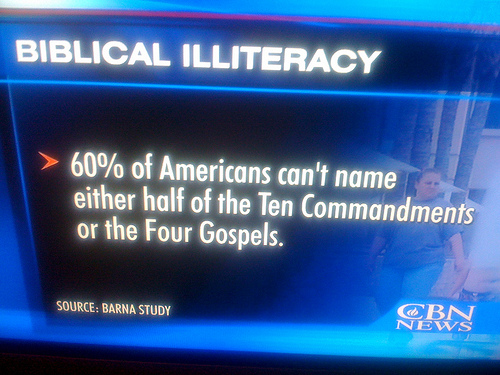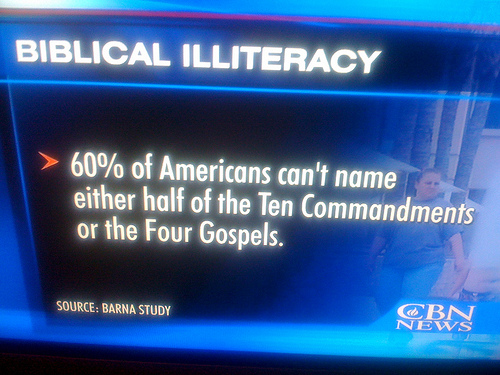 Many pastors and church leaders are alarmed at numerous studies that frequently come out about a growing epidemic of biblical illiteracy in modern Christianity. While many people (even church goers) are generally familiar with the stories of Adam and Eve, Noah, Moses, and Jesus, few people can locate these stories in the Bible, and fewer still can accurately recall most of the details and events within the stories.
Questioning the Studies
Frankly, I'm not sure these studies are accurate, since up until the last one hundred years or so, the majority of the population of the world was unable to read or write. Since this is so, how does someone today determine the biblical knowledge of someone from the past? Could it be that these studies are actually comparing the average person in the pew today with the scholars and pastors of the past? If so, the comparison is hardly fair.
But whether the studies are accurate or not, the issue is still being framed incorrectly.
The Real Problem in Bible Study
The problem is not about how much people know or do not know about the Bible. The problem is what people do with the biblical knowledge they have, whether it is little or a lot. In other words, some people know very little about the Bible, and others know quite a lot, but in both cases, their lives look about the same. Since this is so, those who have no time for reading and learning the Bible see that the lives of the Bible scholars and pastors do not seem to be that much better, and have decided that gaining more Bible knowledge doesn't matter.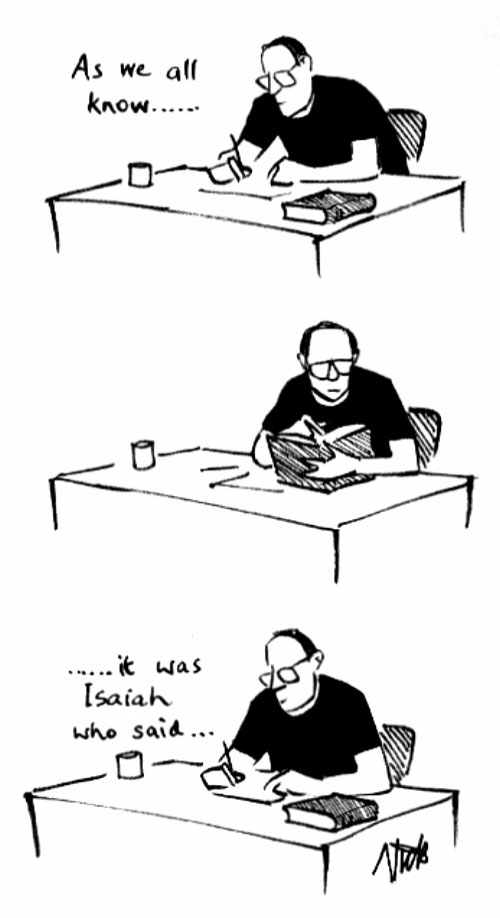 So the real problem of today (and throughout all of history) is not getting people to know more about the Bible, but getting people to live according to the parts that they do know.  And frankly, no amount of preaching, teaching, and Bible studies is going to fix this. The problem of people not living according to the Bible is not solved by filling their heads with more Bible facts and trivia.
And what is the solution?
Preach less, Not More
We must preach less, not more. Then, with the additional time that has been freed up, church leaders can actually lead the church into practicing what was preached in their lives, in the community, and around the world. We cannot think that including specific points of application at the end of our carefully crafted sermon will suffice. Leaders must actually lead the people into obedience.
People don't want to learn more about the Bible (and they shouldn't!) until they have seen the practical benefit in their lives and in the world of what they have already learned.
The Monk who Stopped Studying
It is like the story of a monk who was reading Scripture, when all of a sudden, he slammed the book shut, walked briskly out of the monastery with the Bible under his arm and took it to the nearest bookseller, where he sold it. On his way back to the monastery, he gave the money to a beggar on the street.
When he got back to the monastery, his fellow monks asked what he had read in Scripture which had offended him so much to cause him to sell his only Bible. "I was not offended," he told them. "I was obeying. I read where Jesus instructed a man to sell all he had and give it to the poor. So I obeyed."
Obey Before you Study More
I don't believe Christians should go out and sell their Bibles. But what I do want to suggest is that before we attend another Bible study or listen to another sermon, we put into practice what we already know, and that we obey what we have already learned. I firmly believe that most Christians in the United States, despite the reports of our vast biblical illiteracy, know enough of the Bible and what it teaches that it would take at least a year to put into practice what we already know. We don't need more sermons and studies. We need to put into practice what we already know.
In fact, it may actually be that the biblical illiteracy reported in the studies and statistics—if true—is actually a result of God at work in our lives, rather than an indication of His absence. One clear scriptural principle is that God does not teach us more until we have learned to obey what we already know, and if we do not put into practice what we know, even what we know will be taken from us (see Luke 8:17-18). So it may be that the correction for widespread biblical illiteracy today is not more teaching, but more doing.
So what can a pastor do? How can we teach the Scriptures so that people not only learn what they say, but also do what is taught? The answer is not to teach more sermons, or to provide better and more concrete application. If we put everything that has been taught so far in the chapter, the solution seems to be relatively clear.
---