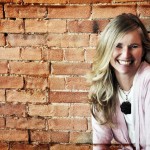 A while back I had the opportunity to visit a House of Refuge in Denver, CO, and read Down We Go, the new book by Kathy Escobar. Recently, I was able to interview her about the church she is part of, The Refuge, and also her book.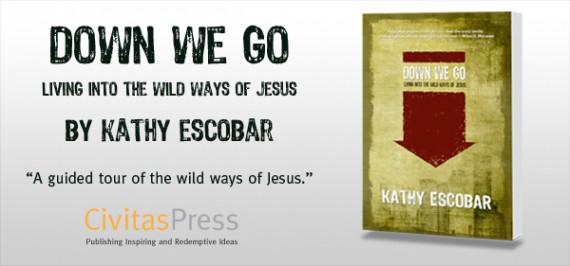 Jeremy: In your book, Down we Go, you describe your transition from a megachurch to being a co-pastor at The Refuge. If that megachurch called you up tomorrow and apologized for how they handled the whole situation, and invited you back on staff with no strings attached to do in their church what you are currently doing with The Refuge, and told you that you could even keep serving at The Refuge as it currently is, would you go? Why or why not?
Kathy: That made me smile!
The truth is that in the past five years I have radically shifted in so many ways that there's no possible way I could exist in that kind of system anymore. I can almost guarantee that within one week I'd get fired again! For me, there's no turning back.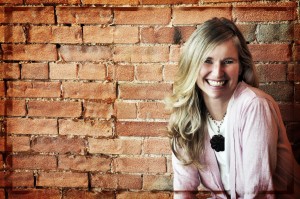 This path that I have been on with my friends to form and live out the refuge together is much more valuable than a bigger paycheck. I have much more to learn here about myself, God, and people that I don't think I can learn there. The reality there is that ultimately power and programs will win out over individual people, even with the best of intentions in place. And on the downward path, individual people always win out over power and programs.
I know that many of the hearts in bigger church systems and structures are very sincere, good, and dedicated to Jesus, but the reality is that the systems that they are living in make it nearly impossible for relationships with people to be the top priority. There are just too many other distractions to keep the wheels spinning 'round. I am so thankful to not have those distractions anymore.
Jeremy: If you could tell the pastors, elders, and ministry leaders of all churches in the country one thing, what would it be?
Kathy: My first reaction was "unplug, listen instead of talk, and quit trying to 'grow' whatever you're doing," but those are 3 things and much more on the surface.
Instead, I'll go for broke and say: Consider entering into recovery. Or healing ministry. Or counseling. Or a safe, honest, challenging group that's talking about real life, not theology. Really, anything that opens up the door to raw and honest relationship with yourself, with God, with other people is the place to start.
We're all addicted to something, whether that be work or church or porn or food or people-pleasing or self-hatred or a host of other struggles. We all need healing and transformation, and it starts with getting in touch with our own story, our own brokenness, our own fears, and our own pain. The humility that it takes to become more honest, more whole, and come face to face with real feelings, real struggles (no matter how big or small) is the ingredient that's missing in so many churches, groups, and ministries.
There's a deep need for more humble, honest, real, vulnerable leaders who can pave the way for others to be set free, like really free, too.
Jeremy: On pages 118-120 in your book, you summarize the Stages of Faith as they were written about in The Critical Journey by Janet Hagberg and Robert Guelich. What stage would you say you are in now? Describe what it feels like for you. How long have you been there?
Kathy: I always say that one book was worth all the money I paid at seminary!
I am so glad that Janet Hagberg let me use it in down we go. I would say I am in the journey outward, Stage 5. I weave in and out of stages 4 and 5 in a pretty fluid way now (I like the idea in the book that once you go through the stages, you can go back and that each stage is not not once for all). I'd like to live more in the "Life of Love" (Stage 6) but the reality is that I have 5 kids to raise and that alone makes being that poured out almost impossible at this time in my journey.
I have fluctuated between stages 4 and 5 for a pretty good chunk of years now. I first started the journey inward when my 17 year-old daughter was a baby, but the truth is that I still longed to go back to the productive life because of the safety that it provided for me. I think at that stage I hit a mini-wall, but it wasn't until about 6+ years ago that I slammed up against the wall in a much bigger, scarier, real way.
Encountering what I encountered on big church staff and wrestling with so much of what I believed about God, Jesus, and The Church was most definitely a deeper, harder, riskier process for me than ever before. There were a few years of intense angst, grief, and anger in the early years of The Refuge. I'd say that journey inward is what leads me to this journey outward, the place I've been hanging out for the past few years in a more lasting way. My gut is that more walls are to come (hoping for more mini-ones, though) and each one creates the possibility for more learning, hope, and transformation.
Jeremy: Many of the people in The Refuge are not "upwardly mobile." Many are stuck in ruts of addiction, poverty, and other various difficulties of life. Do you ever give "handouts" of money to any of these people? Why or why not? How does The Refuge handle what is often referred to in other churches as a "benevolent fund"?
Kathy: We do not give "handouts".
We try to do everything in relationship with each other and do our best to meet needs as they come up together. Because we are a very poor community, in some ways it is helpful because there's not a lot of money hanging around to handout.
The main thing we can offer is love and relationship. And that's free. We do provide food & gas & car repairs & counseling & meds & childcare help & other practical help as needed and try to do our best to partner together with whoever needs it so it doesn't feel like a handout but rather what it really is–help from a friend.
We do not have a system for benevolence. I think that many church systems related to practical help are so degrading–filling out forms, having to serve at the church, or prove attendance. We knew that we would never want to manage advocacy help that way.
The downside of not having a system is that it can be kind of subjective and there's not a clear process of step 1, 2, and 3. When we become aware of a specific need, we talk about it as a team to brainstorm possibilities. It's amazing what good ideas can come from a little bit of brainstorming. On another level, one time another church gave us a car. Instead of us deciding who got it, we had all the people who needed cars talk through it together and everyone made an awesome decision that really worked well for everyone. It doesn't always happen that way, but that feels ideal.
Jeremy: On page 103 of your book, you state your conviction that "Church has absolutely nothing to do with a gathering, and everything to do with bringing Christ's body to a dark, hurting world." Yet The Refuge has several "gatherings" each week. Why?
Kathy: Yikes! I saw when you quoted that on Twitter & thought how easily that could somehow be misunderstood. I do believe that the church is the body of Christ, actively bringing love and hope to the world in all kinds of ways. I don't think that a gathering is necessary to "be the church."
Loving our neighbors doesn't require a weekly gathering. Caring for the poor doesn't require a weekly gathering. Tangible support and eye-to-eye relationship with people doesn't require a weekly gathering. At the same time, I do believe that we desperately need connection with one another and that "gatherings" can be helpful for that.
Acts 2 feels real to me, but it sure doesn't look like much of what we've created in terms of church systems over the centuries. For over 17 years now I have been involved in some type of gathering, either in a small intimate group of women, or a mixed group, or attending some kind of larger gathering on a regular basis. What happens there is not the end-all and the be-all, but it does help me deepen relationship with others and give me a place to know others and to be known by others. The gathering is secondary. The relationships are primary.
In our community there is a lot of deep loneliness and so a gathering is a way to connect with others in an intentional way. We do not gather to sit and listen to someone talk, sing a few songs, and go home, though. We make sure we eat together, laugh together, dialogue, and share our hearts and stories somehow. Parties and celebrations are big parts of our community life together, and we weave that into our weekly gatherings in different shapes and forms or set aside other special times to celebrate.
My hope in always for people is to somehow find whatever works for them. This works for us. At least for now, and we're always open to change.
Jeremy: In the area of blogging and writing, you are fairly "successful" at both. What suggestions do you have for other writers and bloggers out there who want to spread their message, and how do you reconcile your ever-widening success as a writer and blogger with the value of living a downwardly-mobile life?
Kathy: I am glad you asked this question because I knew it was going to be at least something to consider.
I think it depends on what is meant by "successful." If it means creating a community of online relationships and sustaining something over a period of time despite the obstacles, then I guess in some ways I have been. If it means anything related to money, then I most definitely am not! I have never made a dime off my blog. That has always been really important to me (not that people who do are doing something wrong) but I just didn't want to do it that way because of the pressure.
Plus, I'm a pastor, mommy, and advocate first, not a writer or a marketer. I also knew when I wrote this material that there'd be this weird tension of the possibility of a mixed message. I never did any of this to make money (I always joke with people about writing books because this is my 3rd project and the truth is that on the other two books I wrote, in the end they cost me money somehow! Unless you hit the big time as a writer, there's just not a lot of money in it).
At the same time, I wouldn't mind getting something from it because for 3 years I have blogged my heart out for free and worked really hard on this book. But I am not counting on it. I don't really know many things about becoming a better blogger because I'm not that great at technology, but I feel strongly about this–write because you want to write. Share your heart because you need to. Do it because you want to, not because you have to. Most of all, have fun and don't take yourself too seriously (I keep trying to learn this). And celebrate every bit of community and connection that comes from it.
For me, the relationships I have formed online are what sustain me. Also, when it comes to publishing, I always tell people who want to write a book–write it no matter what might happen with publishing it. There are all kinds of ways to publish and I hate to see people stifled because they may not ever get a traditional book deal.
Jeremy: Thank you, Kathy, for your time, your book, and for what you are doing in Denver with The Refuge.
If you want to learn more, make sure you get a copy of Kathy's book, Down we Go, join her on her blog, and follow her on Twitter.
---