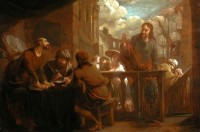 Who do you definitely not want in your church? Have you ever thought that those are the ones Jesus would invite?
In Israel at the time of Jesus, some of the most despised people were the tax collectors. It is not just that nobody likes a tax collector. It was more than that. They were Jews who worked for the Roman Empire to collect money from their fellow Jews, and therefore, were viewed as traitors.
One day, when Jesus was teaching the crowds, a tax collector named Levi set up shop nearby, complete with his rich clothes and tax-enforcing bodyguards. Since the tax booths were movable, he probably came to tax the people as they arrived to hear Jesus teach.
Imagine showing up for church this Sunday, only to discover an IRS agent had put a table out front, and as everybody filed into church, was checking to make sure they had paid their taxes.
So his presence certainly bothered the crowds. They didn't like tax gatherers, and they didn't like to get taxed.
I imagine the crowd wanted Jesus to teach about the evils of the Roman government, the wasteful ways they spent their money on luxury and wars, and how Jewish tax-collectors were traitors of the Jews, traitors of God, and condemned to suffer for eternity in hell.
But Jesus did nothing of the sort. When He sees Levi, standing there, taxing everyone who walked by, Jesus does the most outlandish thing. Rather than throw a Bible verse at him, or condemn him, or ask him to leave, or any of things you and I might do, Jesus invites Levi to become one of his closest followers.
You can imagine the gasp that went through the crowd. What?!? Him?
I spoke earlier of an IRS agent, but this doesn't come close to carrying the weight of how despised Levi would have been. Maybe a modern equivalent here in the United States would be if a prominent pastor asked Major Nidal Malik Hasan to join his church staff. You know, the Army Major who opened fire on fellow soldiers at Fort Hood, killing 12 and wounding 31. Yes, a traitor. Yes, a Muslim.  Kind of like Levi. No, Levi wasn't Muslim, but he definitely would be considered "Jewish."
Can you imagine the shock and outrage from the media and from Christians worldwide if a pastor did such a thing?
That is fairly close to what Jesus did when He invited Levi to be one of His disciples.
Jesus doesn't care that society hates Levi. Jesus doesn't care that Levi is a wretched sinner. Jesus just wants Levi to follow Him. Are you ready to follow Jesus if He wants to invite along the people society hates?