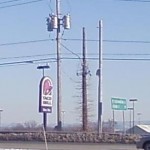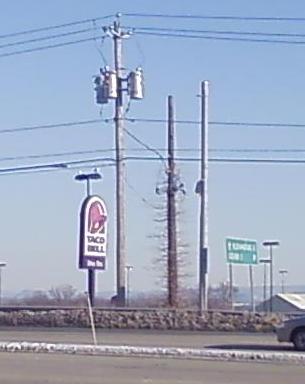 I am approaching the one year anniversary of a particular personal crisis. While the situation still stings, I have a bit of perspective now, and am actually quite thankful about what happened.
As I was driving to work this morning, I saw a wooden power line pole that had resprouted limbs. When I saw it, I did a double take. At first I thought maybe the electrical company had just strung wires to a tree. But upon closer examination, it was clearly a power line pole. It apparently had been a tree at one point (I guess that's where power line poles come from), had been cut down, stripped, and then used as a power line. Over the years, it has resprouted limbs. I didn't know such a thing was even possible.  Even as I write this, I am doubting what I saw, and want to go take another look.
It seemed to me when I saw it that I was to be a picture of what has happend to my family and I during the past year.
I was like a tree that had been cut down, stripped of it's limbs and bark, and then covered in tar and stuck in the mud to hold power lines. A year ago, we had our feet cut out from under us, and were stripped of all that we knew and held dear. I personally felt like my identity and value as a man had been stripped away from me. I felt dead and empty. All the plans, goals, and dreams I had for my life vanished in a day. I searched for new ways of gaining value, but for the most part, they were mere shadows of the dreams I held before, like a tree that had become a power line pole.
But recently, I feel like I am beginning to resprout. I see branches, buds, and roots beginning to form. New life is rising out of death and ashes. I am not sure what the future holds, but I am hopeful…
In the next week or two, I will unfurl one of these new branches, so keep posted!