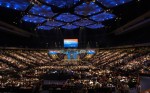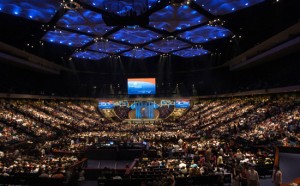 We've all heard of Joel Osteen and Lakewood Church which I hear averages over 40,000 people on a weekend. I think this is the largest church in the United States. His sermons are on television and his book, Your Best Life Now has sold 3 million copies.
But Joel does not have the largest church in the world. Most give this "honor" to David Cho and his Yoido Full Gospel Church in Seoul Korea with about 830,000 members.
Of course, when it comes to buildings, nobody can top the most expensive church, The Basilica of our Lady of Peace in Côte d'Ivoire (Ivory Coast). It cost $300 million to build. It also is recognized as being the largest by floor area (30,000 sq. meters!). I hear that it has it's own airport. Top that one Joel!
But has anybody heard about "Uncle L"? He has no formal seminary education and no advanced degrees. You won't find his sermons online, on the radio. or on television. He hasn't written any books. He doesn't have a website, or even a blog. He didn't raise funds to help plant his church, in fact, his church doesn't even have a central building. There isn't even a church budget. He doesn't have dozens of staff members. He is is not a "Type A" personality, with great leadership abilitites. He would fail most "church planter assessments." No big deal, right? That's true of a lot of pastors around the world.
True, but Uncle L is the "lead pastor" of a church of 3 million people. Yes, 3,000,000. (See Alan Hirsch, The Forgotten Ways, 150).
Uncle L is a soft-spoken, unassuming, older man, who has been to prison several times, and is quietly leading the greatest movement of Christians the world has ever seen.
So why haven't you heard about him?
He's a church planter in China, and is only one of scores upon scores of such "successful" planters in that country.
If they could read our "church planting books" and attend our "church planting conferences" and see that most of our planters want to spend several million dollars to have a church of 10,000, they would probably be amazed at how low we've set our sights, and how little we accomplish with so many resources and such amazing structures.
Maybe our resources and structures are part of the problem…