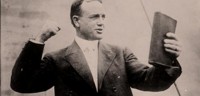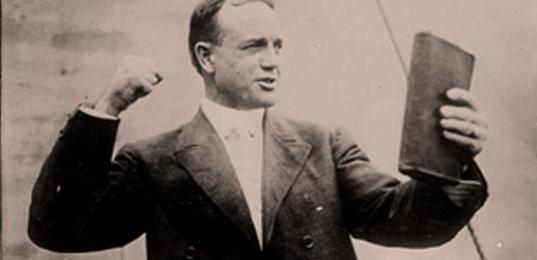 The verse that is most widely used to defend the modern practice of preaching where a person gets up on stage on Sunday morning to teach for 30-40 minutes from Scripture is 2 Timothy 4:2. In this verse, Paul instructs Timothy to "Preach the Word."

So far, in my series on preaching, we have seen that there is a huge difference between preaching and teaching. In Scripture, preaching was often an open-air, spontaneous proclamation in a (usually) secular setting to announce something about Jesus, the Gospel, and the Kingdom of God.
Teaching, on the other hand, was an interactive discussion among followers of Jesus about Scripture.
Preach the Word
If this is the case, what then do we do with the instruction of Paul to Timothy to "Preach the Word"?
Well, if the distinctions between "preaching" and "teaching" continue to hold true even here, then Paul is instructing Timothy to proclaim, or announce, in a public setting what the Bible says about the arrival of the Kingdom of God in and through Jesus Christ. In other words, the instruction in 2 Timothy 4:2 is not a command to teach believers, but is a command to proclaim the Gospel and evangelize unbelievers. And not surprisingly, the context supports this view, since in 2 Timothy 4:5, Paul instructs Timothy to "do the work of an evangelist." This work is not something different than preaching the Word, but is identical to it.
Doing the work of the evangelist is equated with preaching the Word. In the New Testament, preaching and doing the work of an evangelist are synonymous, but preaching and teaching the Scriptures are not.
So when Paul commanded Timothy to "preach the Word," he did not have in mind the same thing that takes place today on Sunday from most church pulpits. Generally, there are two kinds of sermons someone might hear in churches on Sunday mornings. Some churches follow the "preaching" examples in Scripture, and believe that the Sunday morning sermon should be evangelistic. Pastors who preach this way often preach evangelistic sermons, explaining the Gospel, and inviting the people to believe in it. While such a message is similar to biblical preaching, the venue is wrong.  A typical church gathering is not a public setting in which there are more unbelievers than believers. Billy Graham's preaching or a street preacher might be closest to the Biblical model of preaching.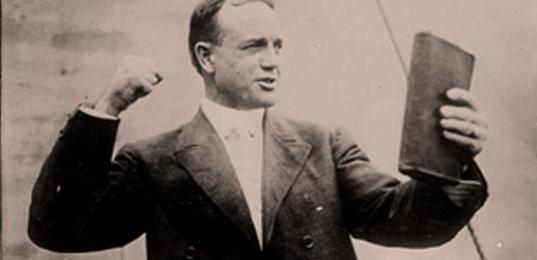 The other kind of sermon one might hear on a Sunday morning is a focused on explaining and applying the Scriptures, which is closer to the "teaching" examples we see Jesus and the apostles engaged in during meetings of believers. However, usually this teaching was an interactive dialogue, rather than one person standing up front presenting a lecture or monologue.
So either way, the modern practice does not fit with the New Testament examples of preaching and teaching.
Why then do we do it? Paul tells us why in 2 Timothy 4:3-4.
Sound Doctrine and Healthy Teaching
Some churches prefer evangelistic sermons every week, and other churches prefer one person to deliver an expositional monologue for one reason: People no longer put up with "sound doctrine" but instead gather around themselves a host of teachers who tell them what their itching ears want to hear (2 Tim 4:3-4).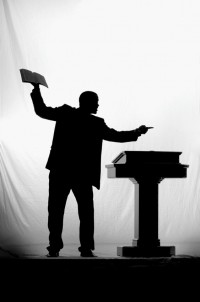 In most churches and seminaries today, we are told that this verse means that people will no longer want to attend church to hear the pastor preach a sermon. But is this really what Paul meant? Not even close.
The words which are often translated "sound doctrine" might better be translated as "sound teaching" or better yet, "healthy teaching" (Gk., hugianousa didaskalia), in contrast to unhealthy teaching.  What is the difference between the two? It is not that one form proclaims the gospel every week and invites people to "come forward" while another form of preaching does not. Nor is it that one form digs deep into the Hebrew and Greek words of the text, quotes Augustine and Calvin, and uses big theological words, while another form does not. It is not that one church hands out bulletin inserts for note-taking, and another church does not.
No, in the immediate and wider context of Scripture, healthy teaching is that which encourages a person to enter into the world, and live like Jesus among the people of the world. This form of teaching is how one lives out the message of the Gospel and the Kingdom of God that has been believed. Unhealthy teaching is the kind of teaching that causes people to withdraw from the world, while seeking greater, deeper, and more speculative teaching.
Healthy teaching sees love, service, and action in the world as the goal. Unhealthy teaching sees knowledge and more learning as the goal.
Those who follow teachers who give them what their itching ears want to hear are those who are content to gather more and more teachers, listen to more and more sermons, gaining more and more knowledge, and being so busy with Bible study, theological learning, and the accumulation of knowledge, that one never has a chance to put any of it into practice in the world.
Healthy teaching is that which results in action. Unhealthy teaching is that which results in more teaching.
This is the point of Paul in 2 Timothy 4. Paul wants Timothy to lead his church away from simply wanting to get more and more teaching, and instead, take them out into the world, where they can proclaim the Gospel, and put it into practice by loving and serving others, just as Jesus has done for us.
We will look more at this concept in future posts. For now, what do you think and what questions do you have?
---