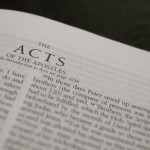 Guy Muse asks the following about Acts:
Is Acts solely a historical description and non-binding on us today? Or is the record meant as a prescription–a kind of road map Jesus meant we are to follow?

Many take a middle-of-the-road approach. The parts we like we tend to classify as "prescriptive." For example, we like Acts 1:8 where we Gentiles are included in Jesus' Great Commission. As Evangelicals we believe we have the responsibility for taking the Gospel to the ends of the earth.

…To me, that is the problem of the middle-of-the-road Acts position. We tend to pick and choose which parts we like and will try to put into practice. Those practices that aren't part of our tradition we classify as descriptive narrative–the same way we do with large portions of the Old Testament.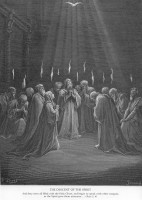 I've written about this several times before (here, for example). I do not believe Acts is an instruction book. A guide? Maybe. A picture? Yes. A pattern? With great hesitation…possibly.
I believe that there are principles in the entire Bible (including Acts) that followers of Jesus are to exemplify, and Acts shows how some early Jewish and Gentile believers lived out these principles in first century Greco-Roman culture.
Each subsequent culture must determine through prayer, Bible study, and reliance upon the Holy Spirit, what it will look like in their culture to follow these same principles. Interestingly, in our postmodern culture, it appears that the best approach is quite similar to that of the early believers in Acts.