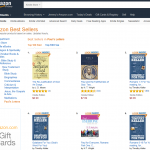 Last week Amazon had the paperback version of my book The Atonement of God on sale.
This week, my eBook, The Re-Justification of God, is on sale. This book is an eBook only, and it usually sells for $3.99, but I saw yesterday that they slashed the price to $0.99. That's 75% off!
A few other people have noticed this sale as well, and have been buying the book today. Right now, it sits at #1 in the Amazon Category "Paul's Letters." Here is a screenshot: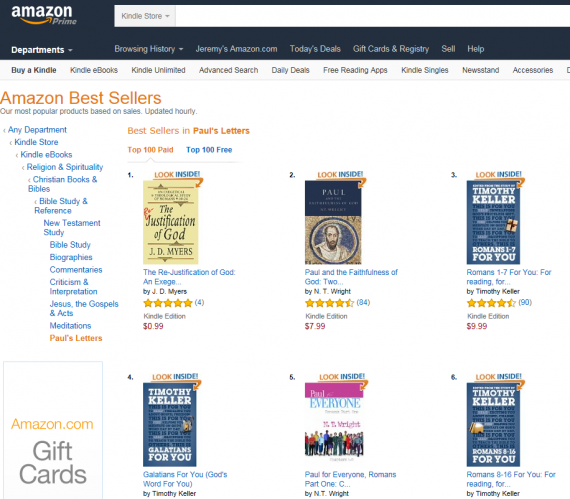 I must confess that it's pretty cool for me to share a page with N. T. Wright and Timothy Keller…
My book takes a brief look at the difficult passage of Romans 9 and presents a way of understanding this text in a way that looks more like Jesus. By reading this book, you will gain a better understanding of what the text means when it says that God hardened Pharaoh's heart and that God loved Jacob but hated Esau.
Now I know the cover for the book is pretty boring and bland, but that's intentional. Here is an explanation of why this book cover looks the way it does. But don't let the book cover scare you away. As the Amazon reviews for this book indicate, the book is very readable and has helped the people who read it see Romans 9 in a whole new way.
So go get your copy today for only $0.99!
Here is what others are saying about the book:
Fantastic read! Jeremy Myers has a gift for seeing things from outside of the box and making it easy to understand for the rest of us. The Re -Justification of God provides a fresh and insightful look into Romans 9:10-24 by interpreting it within the context of chapters 9-11 and then fitting it into the framework of Paul's entire epistle as well. Jeremy manages to provide a solid theological exegesis on a widely misunderstood portion of scripture without it sounding to academic. Most importantly, it provides us with a better view and understanding of who God is. If I had a list of ten books that I thought every Christian should read, this one would be on the list.
-Wesley Rostoll
The more I revisit the scriptures, the more I see that the same patterns come up time and time again. God relentlessly pursues us and places blessings and trials in our way to win us over. Israel was chosen for that purpose, as was Egypt. Similarly, individuals are chosen for this service, whether they be like Jacob or Esau, or Pharaoh. God is prepared to make use of men and nations that He might reconcile to Him as many as who would believe in Jesus.

This is what J.D. Myers presents in "The Re-Justification of God." He explains that in Romans 9, Paul is making a case that the Church needn't despair about the trials that the Jewish nation was about to suffer. They needn't worry that God reneged on his promises and commitments and covenants with Israel. In his book, Myers highlights that in the Epistle to the Romans (Chapters 9 thru 11), the Apostle Paul emphasizes that God is faithful in keeping His promises and that He uses some pretty creative means to do so – like blessing the Church (Jews and Gentiles) with primacy in delivering God's gospel of grace to the world. He shows how Paul argues that the goodness God demonstrates in the Church serves the purpose of calling the Jewish nation to repentance and faith in their Messiah. Since God hasn't given up on redeeming Israel, God will not give up on seeing the Church's redemption through to completion: "He who began a good work in you will carry it on to completion until the day of Christ Jesus" (Philippians 1:6).
-the fab five
Take advantage of this temporary sale and get your copy of The Re-Justification of God for only $0.99!
PS, If you are like me and don't own a Kindle, you can get their free Kindle Reader app for almost any computer, smartphone, or tablet.