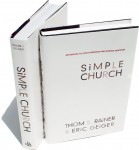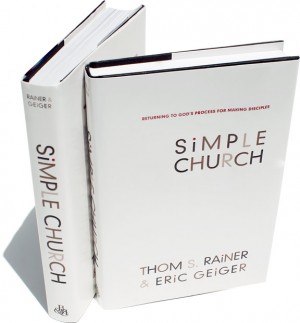 One of the books I read this week was Simple Church by Thom Rainer and Eric Geiger. Though I was excited to read it, and agree in principle with the "Simple Church" concept, that every church needs to drastically simplify what it is doing so that it can do a better job of making disciples, I was a tiny bit disappointed with some of the approaches used by the authors.
The book is based on a survey of hundreds of growing churches across the country which experienced at least 5% numerical growth each year for at least three years. They surveyed these churches on what they were doing and how they were doing it. Here are my complaints with Thom Rainer's Simple Church approach:
First, it does not appear that they asked the growing churches they surveyed where their "growth" was coming from. Much of it could have been transfer growth. I don't mind "transfer growth" if Christians are leaving sick churches to attend healthy ones, but that is not the reason most Christians transfer. Most just want to go where they get the best show.
Second, it seems they only surveyed larger churches (of 300 or more) and churches with buildings. This is odd since about 90% of the 485,000 US churches are under 80 people. Also, the most "simple" churches in the country are house churches (of 30 or less). It would be interesting to see if his stats fit with house churches.
Third, I am so tired with people thinking that numerical growth equals church growth. It doesn't!
Church growth is when believers grow and develop into Christlike maturity. This can occur even if the number of people in a particular group is decreasing. Thom Rainer's survey reinforces the terrible and misleading idea about what constitutes "church growth" and thus, his whole study is skewed.
Finally, it seems that there is a real breakdown in the ability of the churches that were surveyed to get their people into community service (mission). Though the people may be progressing through the simplified discipleship track, few make it to the goal of mission involvement. I wonder if this isn't because Mission should be placed first, as suggested by other books on the market (e.g. The Forgotten Ways).
Of course, despite these "complaints" of mine, I do think it is a really good book since most churches desperately need simplification.