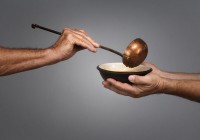 I'm not poor. In fact, Sam, who writes at GraceGround, recently directed me to a Photo Essay called "Where Children Sleep," which showed me how unbelievably rich I really am.
A huge question in my life right now is how I can "share the wealth" with those who have less than I.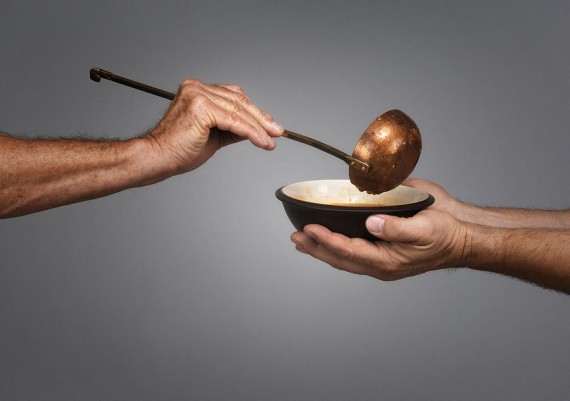 I know this is a huge political issue right now as many on the political left are saying that it is the responsibility of the rich to "spread the wealth around and give their fair share" while those on the right are saying, "Stay out of my pocket so I can create jobs."
This is not a political blog, and I do not have a solution. But one thing I do think is that it should never be the government's responsibility to provide for the poor and hungry. This is the church's responsibility. And somewhere along the way, the government decided to get involved, and the church was only too happy to let them, because this freed up more money for big buildings, and better salaries.
Ok. I'm getting cynical again. Let me back up and start over…
I'm not poor. I think one of the things God calls us to do as followers of Jesus is help provide for those who are poor and hungry. And the world is full of people who need our help.
But the question is "How"?
Is a free handout from the church or the government the best way to help? I tend to think not.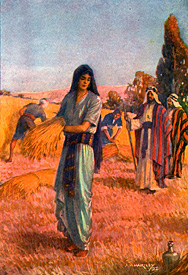 In ancient Hebrew culture, the Mosaic Law instructed the Israelites that one way to provide for the poor and needy in their community during harvest time was to leave the corners of their field unharvested. Then those who were hungry could go to the field, and harvest this grain for themselves.
The law did not require that the landowner harvest all the grain, and then to provide for the poor, take a portion of the harvest, thresh it, grind it, make bread out of it, and deliver it to the poor. Instead, land owners were expected to leave a portion of their fields unharvested so the poor and hungry could provide for themselves. The food was there for people who needed it, if they went out to collect it, thresh it, mill it, knead it, and bake it.
In other words, the food was there, but it wasn't going to just appear on your doorstep while you sat home and watched TV.
Is that too harsh?
I just see all the needs around us, and our country spiraling into debt, and I wonder if there isn't a better, more efficient way of taking care of the people in our country and especially those around the world, who are without daily food and clothes. But meeting needs is not the same thing as giving handouts. Instead, in exchange for society meeting the personal needs of food, clothing, and lodging, people should be expected to contribute in some way or fashion to meet various societal needs.
I am not a politician, nor am I an economist, so I certainly don't have all the answers, but I wonder if there is anything the church and our national welfare system could learn from the example in Scripture and how God wanted the Israelites to provide for those with needs in their country.
What do you think?