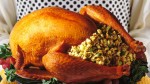 As people around the country stop to sit down with friends and family and a bunch of other strangers while we wait in line for the doors to open at Best Buy, it is good to remember all that we are thankful for.
One of the things I am thankful for is "Models for Christ." They do such a good job representing Jesus. (Read that statement with sarcasm.)
I was listening to the radio and heard about how a group of volunteers gathered in New York to serve a Thanksgiving dinner to the homeless. The radio show host was there as well, and he said that the food was hot and ready to serve, the homeless were all lined up ready to eat, when all of a sudden, the whole event had to stop so that local newspaper and magazine publishers could take pictures of some "Models for Christ" serving food to the homeless.
The radio show host said that though he had been there all morning helping to prepare the food and the auditorium for feeding the homeless, he hadn't seen any of the "Models for Christ" do any work earlier. During the picture shoot, all they did was smile, post, and hold paper plates full of food that someone else had prepared. Then, when the photo shoot was over, all the "Models for Christ" left… without serving a single plate to a single homeless person.
The real volunteers, who had been there all morning cooking and preparing, were the ones who served all the food, sat and talked with the homeless people, and stayed around afterward to clean up. Of course, nobody took any pictures of them for the newspaper or local magazines.
The radio show host said, "I am not saying that all 'Models for Christ' act like this, but it just seemed so rude and arrogant, to show up just when the food was about to get served, and then stall the whole event while some fake pictures are taken, and then leave without actually serving any food."
I don't think anybody was fooled that day, except for maybe the Models for Christ. Though they bore His name, they did not bear His image. Though they may have been "Models for Christ" they were not models of Christ.
I suppose we shouldn't blame them. Their schedule was probably pretty tight. They probably had some guest appearances on Television shows, a photo-op with the Mayor, and then they had to get home to their glittering mansion and perfect family to eat a catered Thanksgiving meal.
Ok, ok. I'm getting a little worked up now.
Look, one of the constant themes on this blog is that if you are going to bear the name Christian, please, please, please, try to actually look like Jesus. Please try to model Christ to others, who had no beauty that we should desire Him, no riches and wealth that we should seek His favor, and no form or comeliness which attracted people to Him (cf. Isaiah 53:1-3).
But people were drawn to Jesus because He was full of grace and truth, love and mercy, hope and forgiveness, generosity and joy.
If we are truly models of Christ, this is how we too can live.
PS, No, I am not in line at Best Buy. My wife and I pretty much boycott the entire "Black Friday" shopping frenzy… not because we think it's wrong… we just dislike crowds and stores.