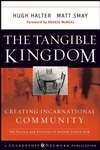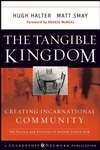 I was able to get my hands on a free copy of The Tangible Kingdom last week, which thrilled me because I was going to buy it anyway. It's the newest book from The Leadership Network, and so far, I haven't read a book from them that I don't like. The Tangible Kingdom was no exception, and it is going on my "Missional Must-Read" Book list.
This book really hit me hard, partly because the story of Hugh Halter (one of the authors) mirrors so closely my own story. He was well situated in the established church, but didn't feel quite at peace with himself, or with God, in such a position. So he left it all behind to see if he could find (or create) something that was still true to Scripture, but was also more effective in engaging and redeeming our culture. Doing so created lots of tension. Here is what he wrote, which is exactly what I am feeling:
You can't go back, but forward doesn't feel much better, because forward may not pay the bills or make it any easier to live the Christian life you've always wanted to live (p. 18).
He made it through this time of uncertainty (so there's hope for me!) and ended up in Denver planting a community of faith called Adullam with some friends. As people wanted to learn more about what they were doing and why, they also developed a Web-based practicum for pastors and church planters to help them innovate new ways of effectively being the church.
What I found most refreshing about the book is that the authors are not trying to criticize, judge, or condemn the way the typical church functions today. Instead, they just explained what they are doing and why, and how it is effectively bringing people into the Kingdom of God. His bottom line premise is that the church is supposed to be living out the Kingdom of God in our communities and with our friends. As we do this, the aroma of the Gospel simply attracts people to us. They put it this way:
Church should be what ends up happening as a natural response to people wanting to follow us, be with us, and be like us as we are following the way of Christ (p. 30).
Do you find that other people are strangely attracted to you, your life, your family, and the way you "do church"? If not, it may help to read this The Tangible Kingdom.