Moses is the only biblical author to write any commands about the tithe. Yes, that is right. There are no commands written by any other author in all of Scripture about giving a tenth of your income. However, some pastors argue that although Moses is the only biblical author to write commands about tithing, his instructions were not for a mere 10%, but were closer to 30% of a person's annual income.
The 30% Tithe?
The argument for this 30% tithe is based on several passages from the Books of Moses. The argument is that there was a tithe to support the Levites (Lev 27:30-33), a tithe to fund an annual festival (Deut 14:22-29), several smaller tithes to help the poor (Lev 19:9-10) and give rest to the land (Exod 23:10-11), and on top of all of this, there were numerous annual sacrifices of bulls and goats, which also cost money (Lev 1–7). None of this counted the freewill offerings a person might make, but even without these offerings, it is estimated that a person's annual required "donation" to the temple was around 30% of their annual income.
People who argue this, however, fail to recognize that when Moses wrote these laws, they were operating as a Theocracy, and the vast majority of these "tithes" were the modern equivalent of taxes. When the people brought in the required tithes of their crops and produce, it was so the rulers of the country could perform their God-given functions. And who were the rulers of the country in the Israelite theocracy? The Levitical priests!
Paying Tithes and Paying Taxes
So while it is true that the Israelites gave somewhere in the vicinity of 30% of their crops and herds to support the work of the Levites, this is not at all equivalent to tithing to support the church today. Instead, since their "tithe" was supporting their theocratic government, the modern equivalent is how we pay taxes to support the functions of our own government.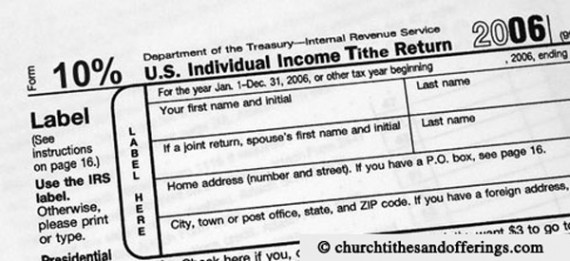 And when we realize that the average person today is paying the federal government around 25% of their income, and then paying another 10% (or more) for state, county, and city taxes, we are paying a little more in taxes today than what was prescribed by the Mosaic Law for the people of Israel to pay their government. To ask people to "tithe" and additional 10% to the church because "this is what the Law says" reveals a misunderstanding of the Mosaic Law, how this tithe was collected, and what this income was used for.
We will look in greater detail tomorrow at the instructions from Moses about the tithe. Be prepared to be surprised!