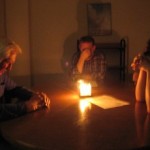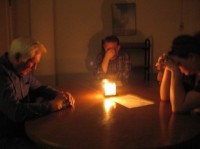 In a previous post, I suggested that you do not go to church; the church goes with you. Or to put it another way, wherever you go; there goes the church.
This raises questions about Matthew 18:19-20, which says that wherever two or three are gathered together in the name of Jesus, He is there with them in their midst. This verse is often used in one of three ways.
Matthew 18:19-20 – Three Uses
First, it is used to condemn lone ranger Christians. You know, the ones who have church by themselves on the ski hill, in the bass boat, or (most likely of all), asleep in bed. To these sorts of Christians, people quote this verse and then say, "You can't have church by yourself." Of course, they frequently go on to say that you can't just be with one another believer, there also needs to be a preacher, and some singing, and prayer, and an offering, and communion, and… well, you get the picture.
The second way this verse is used is to make pastors feel better when attendance is low at a Sunday service or prayer meeting. I remember one Sunday service in my first church when only five people showed up, counting my wife and myself. I distinctly remember quoting this verse to the congregation to help us realize that even though nobody else came, Jesus was there with us. It didn't make me feel any better…
The third way this verse is often used is to defend house churches. Traditional, brick-and-mortar church people say something like, "You can't really use your gifts in a small fellowship. You have to be part of a big fellowship where all the gifts are present and everybody is helping each other." It is highly unlikely that everybody is using their gift in a big church either, but regardless, the house church proponent will often quote Matthew 18:19-20, defending the view that although only a few people gather, house churches are churches too.
Personally, I don't think any of these uses are proper.
Matthew 18:19-20 in Context
Matthew 18:19-20 is one of those verses (like every other verse in the Bible) where context is key. In the immediately preceding passage, Jesus is providing instructions on how to restore a fellow believer who is sinning. It is after these instructions that Jesus talks about two or three gathering in His name.
So what Jesus is saying is that when the church is trying to restore a sinning brother or sister, He is there with them, helping them make wise and loving decisions for the good of the sinning person and the entire church. The verse has nothing to do with determining what is church and what is not, and everything to do with how the church can help one of its straying members.
Matthew 18:19-20 in Theology
Even without the context to guide us, however, a little theological reflection reveals that Matthew 18:19-20 cannot be used to define a church meeting. If Jesus is saying that He is only present when two or three are gathered, then does this mean that Jesus is not present with each one of us as we go about our day? Is He not with you when you pray, and when you go to work, and when you face trials and temptations? Is Jesus not with the Chinese pastor in a solitary confinement prison cell? Is He not with the single mother as she struggles to raise her children by herself?
To ask such questions is to answer them. The rest of Scripture makes clear that we are in Christ and He is in us, and He will never leave us nor forsake us, and no matter where we go or what we do, He is right there also.
So can a solitary believer be the church after all? We'll address that question later this week, but for now, what do you think?