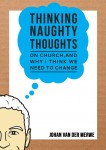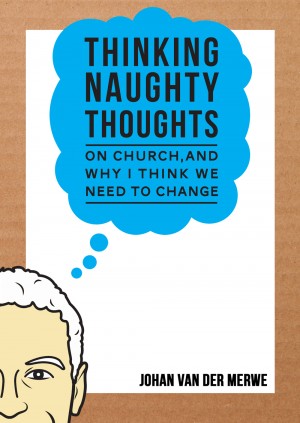 I was recently sent a book to read and review called Thinking Naughty Thoughts on Church, And Why I Think We Need to Change by Johan Van Der Merwe.
All in all, the content of the book isn't bad… it just has a definite self-published look and feel.
But if you can get past that, the book will encourage  you to ask questions about church that you may have never asked, and to see certain church practices from new perspectives.
In seven chapters, the author raises questions about belonging to a local church, observing the Lord's Supper, church leadership structures, tithing, preaching, worship, and the church building as the "House of God."
The author closes with a chapter stating that while he does not judge or condemn those who see things differently that he does, he hopes such people will not condemn him either, but will allow him (and others) to face the difficult questions about church that need to be asked. As one who asks many questions (and sometimes gets condemned as a result) I heartily agree with this request.
While much of what the author wants is similar to what I have written about on my blog and in my own books, I am always glad to see other books with similar messages make it into the marketplace. The more that books like this get published, the more chance there is that people will read them and begin asking some important questions about church and how to follow Jesus into the world.
Books like this remind us that having concerns, doubts, and questions about how to follow Jesus and be the church is not us being rebellious, blasphemous, or heretical, but is simply participation in the worldwide awakening to what the Spirit of God is whispering into the minds and hearts of the people of God everywhere.
So I thank Johan for offering another voice to the ever-increasing chorus of men and women who seek to follow Jesus in ways that require courage and creativity.