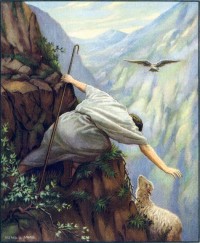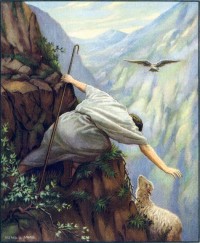 In Luke 15, there are three famous parables: The Lost Sheep, The Lost Coin, and The Lost Son (also known as The Prodigal Son). (Read my post here about the Prodigal Son).
The most common view on these parables in Luke 15 it that the lost sheep, lost coin, and lost son all refers to unbelievers, and Jesus goes out and finds them, and brings them back to Himself. So when people ask about the meaning of Luke 15 and the three parables, the answer that most people get is that unbelievers are becoming Christians.
But is this really what Jesus meant by these stories in Luke 15? I think not.
The Lost Sheep are Not Unbelievers, but Believers
Upon careful inspection, however, it soon becomes clear that the parables of the Lost Sheep, Lost Coin, and Prodigal Son in Luke 15 are not about unbelievers becoming Christians, but about straying Christians repenting and being restored back into fellowship with God.
For example, the Lost sheep already belonged the shepherd. The Lost Coin already belonged to the woman. The Lost Son was already a son of the father. The Shepherd does not get a NEW sheep into his sheep fold, but returns one that was lost and found. The same is true of the Lost Coin and Lost Son.
Furthermore, the Gospel of Luke itself is not an evangelistic book in the Bible, but is a discipleship book. That is, Luke does not say much of anything in his Gospel about how unbelievers can receive eternal life. But he writes a lot about how believers can better follow Jesus and grow in their faithfulness and obedience to Him. The Gospel of John is the only real evangelistic book in the Bible, and it says over and over and over how to receive eternal life (believe in Jesus for it).
So again, the immediate and broader context of Luke 15, we see that the issue is not unbelievers becoming believers, but straying believers being brought back into the care, protection, and provision of God. In light of the context and the terms uses in the passage, this seems to be what Jesus is saying in these parables.
Furthermore, the traditional interpretation of this passage leads to some dangerous theological results.
The Traditional View of Luke 15 Can Lead to Universalism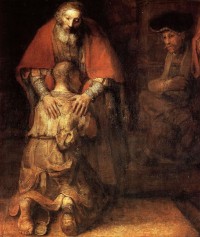 For example, if these three parables are talking about how Jesus goes out to find unsaved people, and the lost sheep, coins, and sons therefore represent all the people of the world, what is keeping us from a universalist interpretation of this passage, since Jesus doesn't stop searching until he has gathered all 100 back into his fold?
I recently discussed this online with a person who had come to this exact conclusion. He wrote:
I'm living for the Shepherd who will leave ninety-nine sheep to find the one that is lost. If the entire world was lost, I expect He found every last one.
Certainly, not everyone who holds the view that the lost in these parables in Luke 15 refer to unbelievers are universalists, but this man did arrive at a universalist position partly as a result of viewing the lost sheep, the coins, and the sons as unbelievers.
Luke 15 is an Encouragement to You
This truth from Luke 15 is a great encouragement to you and to me. It shows us how much God loves us, and that even if (when!) we stray, God will not shrug His shoulders and say "Good riddance! Buh bye!" No, instead, God will go to every length possible to find you and bring you back into His care. He will search high and low. He will scour every nook and cranny. He will never stop watching, waiting, and looking.
And when He sees you far off in the distance, He will not make you crawl back and beg for forgiveness. No, He will run to you with open arms and throw you a party for your return.
Have you stayed from God? It's okay. Hopefully you have learned a few things while away. Now, return to Him. He is ready, willing, and waiting to welcome you back.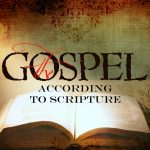 Want to learn more about the gospel? Take my new course, "The Gospel According to Scripture."
The entire course is free for those who join my online Discipleship group here on RedeemingGod.com. I can't wait to see you inside the course!