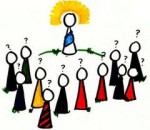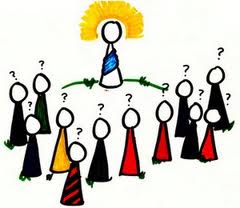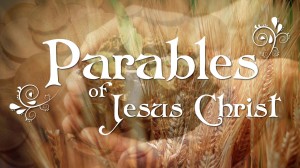 This post on Jesus' parables is part of the August Synchroblog, a monthly event where bloggers around the world write about various topics at the same time. If you are a blogger or writer, make sure you join us next month! It's a great way to meet other bloggers and blog readers.
Most people find Jesus' parables to be rather confusing. If that is you, guess what? You are on the right track to understanding Jesus' parables! Seriously.
I often laugh when I read what the disciples say to Jesus in Matthew 13:51 after He has told a string of several particularly confusing parables. Jesus says to them, "Have you understood all these things?" and they answer, "Yes, Lord!"
Frankly, I think this was a case of "The Emperor's New Clothes." I think that none of them understood much of what Jesus was saying (for when have they ever understood much of Jesus' parables before?) but were all too afraid to admit that they had no clue what Jesus was talking about, and nobody was courageous enough to admit it. Too bad there wasn't a child nearby to yell out, "Hey! I don't understand! Tell us what you mean by these parables, Jesus!"
Well, I am not a child, and I am not one of the apostles, but let me admit it publicly, "I don't think I understand Jesus' parables."
And you know what? I think that is EXACTLY what Jesus wants. In fact, confusion is the goal of the Jesus' parables. Did you know that? So if you are confused by what Jesus says in His parables, you are on the right track. If you are confident you understand all of Jesus' parables, you probably need to have your pride meter checked. Jesus told parables so that people would not understand what He was saying, and He had very specific reasons for doing this.
Let me show you what Jesus Himself said about the parables, and then I will conclude this post with a chronological list of all Jesus' parables in the Gospels.
Why Jesus Spoke in Parables
You sometimes hear pastors say that since Jesus told stories, so should we. I think we could have a debate about the effectiveness of storytelling in our preaching and teaching, but one thing we cannot argue is that "since Jesus told stories, so should we." Jesus didn't tell "stories." He told "parables." Parables are very different than stories. Though there are similarities between stories and parables, stories are often given to illustrate a truth or help people remember a point that was made, while parables, on the other hand, are given to hide the truth and confuse people about the point that was made.
At least, that is what Jesus says about why He told parables.
As we all know, Jesus told parables. The apostles were always getting confused by His parables and were relieved when He finally spoke plainly to them (John 16:29). The fact that the apostles were first century Mediterranean Jews who lived and listened to Jesus for three straight years, but who were still confused by Jesus' parables should give us hope that if they were confused, it is okay for us to be confused as well.
Yet confusion was the goal and purpose of the parables. At one point in Jesus' ministry, the apostles come to Jesus and say, "Why do you speak in parables?" (Matthew 13:10). They were confused by what Jesus said in his parables, and the multitudes who listened to Jesus' parables were often confused as well by what Jesus was teaching, and so the apostles were kindly telling Jesus that He might do better if He spoke plainly to the people.
Jesus tells the apostles in Matthew 13:11-17 (cf. Matthew 13:34-35; Luke 8:10) that the reason He speaks in parables is so that the people will "see but not see, hear but not hear."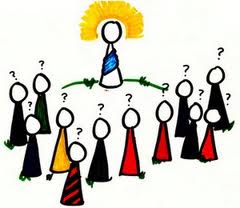 In other words, Jesus told parables to mask the truth, to hide it, to cloak it, to make it unclear. Jesus' parables are supposed to be confusing! He wanted them to be confusing!
Why would Jesus do that? Didn't Jesus come to reveal God to us? Doesn't Jesus want people to understand the way of salvation? Aren't good teachers supposed to teach with clarity?
Well, this actually gets us back into the whole theology of the Bible as well. If you have been honest with yourself enough to admit that some of Jesus' parables are confusing, then you are probably also honest enough to admit that much of the Bible is confusing also. One of the reasons Jesus spoke in ways that were confusing to His audience, is because… this is what God has always been doing! 
So if we want to ask why Jesus told stories that were intentionally confusing, then we also need to ask why God would inspire the Bible to be written in ways that were intentionally confusing. The answer to one question will also be the answer to the other.
And do you want to know why?
Here is why: Scripture and parables are confusing because God doesn't want us to get life from a book. The Jewish religious leaders were trying to get their life from a book, and Jesus scolded them for it (John 5:39-40), and so also today, many people seem to think that life comes from studying, learning, and following the Bible. But it doesn't.
Life comes from God alone. Life comes through Jesus Christ. He IS life.
And so when God inspired the Bible to be written in confusing ways, and when Jesus told parables that were confusing, their goal was not just to confuse people, but to get people to come to the source of life for an explanation. God didn't inspire the Bible to be written just so we could have a book about God. Neither did Jesus tell parables just so we could have some profound spiritual truths. No, the Bible is a tool to lead us into a relationship with God and the parables are a tool to lead us into a relationship with Jesus.
When Jesus told confusing parables, the proper response was for people to go to Jesus and say, "What in the world? That made no sense, Jesus. What did you mean by that parable?" And Jesus always responds by saying, "Ah! I was waiting for you to ask. Let's talk about it." And that is what He does. He sits around and discusses the parables with those who want to learn more and who come to Him seeking a relationship. That is why He tells the apostles in Matthew 16 that their eyes and ears are blessed because they see and hear what many prophets have longed for. What did they see and hear? Not the parables…. but Jesus Himself!
This is the same way we can approach Scripture. When the Bible is confusing, the proper response is to go to God and say, "What in the world? This makes no sense, God. What were you thinking? What is going on here?" And then God can say to you, "Ah! I was waiting for you to ask! Let's talk about it."
Why is the Bible confusing? For the same reason Jesus' parables are confusing: God doesn't want us to be "people of the book." He wants us to be people of His family. He wants us to be His sons and daughters. And as His children, when we read something in His book that doesn't make sense to us, He doesn't want us to shake our head, throw up our hands and say, "I'll never understand the Bible." Instead, He wants us to develop a relationship with Him by going to Him with our questions and concerns.
Of course, I should tell you how God often answers your questions and concerns. In my experience, He usually says something like this: "Oh yes. That text. That's a tough one. But listen, don't worry about that right now. Look at your neighbors over there struggling with their marriage. What do you think we can do to help them?"
If you look through Jesus' parables in the Gospels, note that after many of them, rather than really provide much of a verbal explanation, Jesus takes His apostles to love or serve somebody. After the Sermon on the Mount, in which Jesus told several parables, Jesus goes and cleanses a leper, heals the centurion's servant, and many other people (Matthew 8). After telling a parable about new wine in old wineskins, Jesus raises a young girl to life, gives sight to blind men, and gives a mute man back his voice (Matthew 9). This patterns is followed throughout the Gospels.
So don't be surprised if following Jesus means following Him with lots of unanswered questions. The parables were designed (along with the rest of Scripture) to bring you into the company of Jesus. After that, Jesus shows you what the parables mean, not by answering your questions, but by leading you to love and server others.
…Which turns out to be the meaning of Jesus' parables all along.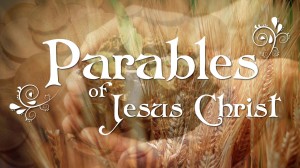 A List of Jesus' Parables
Here is a list of Jesus' parables in chronological order (Credit goes to The Narrated Bible in Chronological Order for this list).
New cloth on an old coat (Matthew 9:16; Mark 2:21; Luke 5:36)
New wine in old wineskins (Matthew 9:17; Mark 2:22; Luke 5:37-38)
Lamp on a stand (also see #6) (Matthew 5:14-15)
Wise and foolish builders (Matthew 7:24-27; Luke 6:47-49)
Moneylender forgives unequal debts (Luke 7:41-43)
Lamp on a stand (2nd time, see #3) (Mark 4:21-22; Luke 8:16, 11:33)
Rich man foolishly builds bigger barns (Luke 12:16-21)
Servants must remain watchful (also see #44) (Luke 12:35-40)
Wise and foolish servants (also see #42) (Luke 12:42-48)
Unfruitful fig tree (Luke 13:6-9)
Sower and four types of soil (Matthew 13:3-8, 18-23; Mark 4:3-8, 14-20; Luke 8:5-8, 11-15)
Weeds among good plants (Kingdom of Heaven) (Matthew 13:24-30, 36-43)
Growing seed (Kingdom of Heaven) (Mark 4:26-29)
Mustard seed (Kingdom of Heaven) (Matthew 13:31-32; Mark 4:30-32; Luke 13:18-19)
Yeast (Kingdom of Heaven) (Matt 13:33; Luke 13:20-21)
Hidden treasure (Kingdom of Heaven) (Matthew 13:44)
Valuable pearl (Kingdom of Heaven) (Matthew 13:45-46)
Fishing net (Kingdom of Heaven) (Matthew 13:47-50)
Owner of a house (Kingdom of Heaven) (Matthew 13:52)
Lost sheep (sheep as children, also see #29) (Matthew 18:12-14)
The sheep, gate, and shepherd (John 10:1-5, 7-18)
Master and his servant (Luke 17:7-10)
Unmerciful servant (Kingdom of Heaven) (Matthew 18:23-34)
Good Samaritan (Luke 10:30-37)
Friend in need (Luke 11:5-8)
Lowest seat at the feast (Luke 14:7-14)
Invitation to a great banquet (Luke 14:16-24)
Cost of discipleship (Luke 14:28-33)
Lost sheep (sheep as sinners, also see #20) (Luke 15:4-7)
Lost coin (Luke 15:8-10)
Lost (prodigal) son (Luke 15:11-32)
Shrewd manager (Luke 16:1-8)
Rich man and Lazarus (Luke 16:19-31)
Workers in the vineyard, early and late (Matthew 20:1-16)
Persistent widow and crooked judge (Luke 18:2-8)
Pharisee and tax collector (Luke 18:10-14)
King's ten servants given minas (also see #45) (Luke 19:12-27)
Two sons, one obeys one does not (Matthew 21:28-32)
Wicked tenants (Matt 21:33-44; Mark 12:1-11; Luke 20:9-18)
Invitation to a wedding banquet (Matthew 22:2-14)
Signs of the future from a fig tree (Matthew 24:32-35; Mark 13:28-29; Luke 21:29-31)
Wise and foolish servants (2nd time, see #9) (Matthew 24:45-51)
Wise and foolish virgins (Matthew 25:1-13)
Servants must remain watchful (2nd time, see #8) (Mark 13:35-37)
Three servants given talents (also see #37) (Matthew 25:14-30)
Sheep and goats will be separated (Matthew 25:31-46)
There are, of course, some keys which help us to understand Jesus' parables. Among them are understanding God's outrageous grace, what Jesus means by the "Kingdom of Heaven," and what Jesus thinks about religion (Hint: He hates religion). It is also critical to grasp some of the historical-cultural background themes and ideas from the first century Mediterranean world. If you want to learn more about these things, I highly recommend the following resources to get you started:
Resources for Understanding Jesus' Parables
If you know of other good books on the parables of Jesus, let me know in the comment section below.
Other People who Blogged on Jesus' Parables
Here is a list of other bloggers and authors who contributed to this month's synchroblog on Jesus' parables. Go check them all out!
---