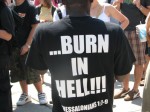 This post is written by Sam Riviera, a frequent contributor to this blog.
---
You're disgusting! Burn in hell!
How would you like it if someone said that to you? You probably wouldn't like it.
Do we have the right to tell anyone that they should burn in hell? Do we have the right to say it to people who march in Gay Pride parades? To women who have had an abortion? To prostitutes? To child molesters? To murderers?
Especially when we realize that, in the minds of most, "hell" is a place where people get tortured and tormented for all eternity. Telling someone they should burn in hell is announcing your desire that they suffer in agonizing pain forever and ever. Is telling someone they should burn in hell really Christlike love?
Maybe people who say such a thing should be arrested, as Bill O'Reilly, Fox news host, suggested on his show.
What would you do if someone got in your face about something they didn't like about you, about who you are, what you believe, what you have done, or how you live, and told you that you will burn in hell for those things? Is telling someone to burn in hell commendable Christian behavior or condemnable Christian behavior?
Love in the Margins
All of my life I've had friends who many have considered on the margins, the outer edges of society – LGBTs, homeless, prostitutes, addicts, murderers and other criminals, and you-name-it. I love these people. I mingle with them. I talk with them. I hug them. I walk arm-in-arm with them.