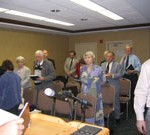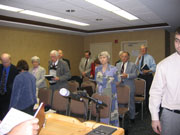 We previously asked the question, "Who is the church service for – believers or unbelievers?" (See Part 1 and Part 2). We saw that depending on how you answer that question determines whether you are going to focus on teaching believers or reaching out to unbelievers (aka seekers) in your "church service."
However, statistics and surveys reveal that in general, disciple-making churches don't turn out very good disciples, and seeker-sensitive churches tend mostly to attract Christians from other churches. So both approaches are failing in both discipleship and evangelism.
I suggested that the solution to this dilemma is to ask different questions. First, What is church? and second, What is the church service? With basic answers to these questions, we can now see that the only time "church service" is happening is when a group of believers (the church) are actually meeting the needs of someone else (serving), whether these needs are spiritual or physical. To be balanced, a church should focus on both spiritual and physical needs.
So what is the answer to the question, "Who is the church service for?"
The Church is for anybody that that the church is serving.
So while a group of believers could meet together for prayer, Bible study, and fellowship, this is only part of "church" for such practices only serve spiritual needs. As a group, they might want to also go out and put into practice what they have learned in Scripture to meet the physical, emotional, and psychological needs of others in the community.
They could do this all on one day, or split it up during the days of the week, or even alternate weeks. This will work best when the same group of believers that learns together goes out and serves together as well. Such service doesn't even need to be a part of the church program, but can also be a simple part of living life among other people.
Other than these few things, I cannot find any clear and consistent guidelines in Scripture on when the church is supposed to meet and/or what they are supposed to do when they meet. See this series on the church service for where I discuss this in more detail.
Also, if you want to learn more on how to actually serve people in the community, try my book Put Service Back into the Church Service.