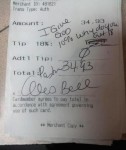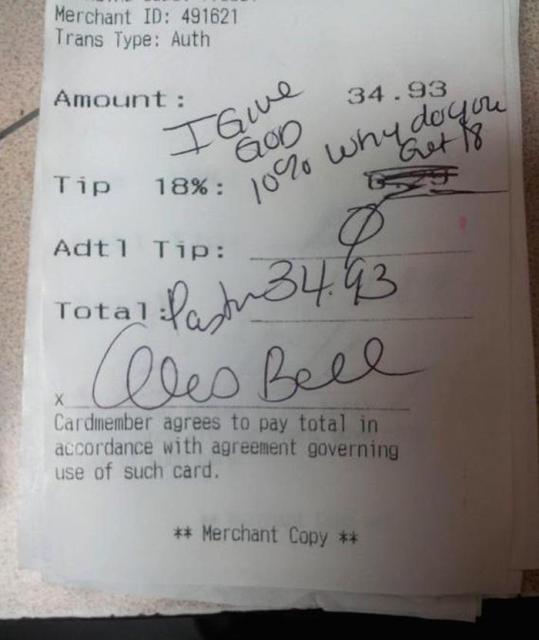 My wife and I used to wait tables. Our favorite customers were a certain biker gang. They came in every few weeks. They had long scraggly beards, wore leather, and were covered in tattoos. Following the stereotype, they ate a lot of food and drank a lot of beer, laughed, smiled, joked, and had a good time. But they were always respectful to the staff and servers, and they tipped well. Everybody was jealous when this biker gang got sat in some other server's section.
Our least favorite customers were Christians. Especially the ones carrying their Bibles and wearing Christians t-shirts. When we saw people wearing a Christian t-shirt or praying over their meal, we servers would often try to give the table to someone else. Why? In general, they were among our worst customers. They were often rude, demeaning, condescending, arrogant, impatient, picky about their food, and to top it off, the worst tippers ever.
Obviously, not all Christians are bad customers or terrible tippers. My wife's parents, for example, always gave good tips and were great customers. I am sure there were others as well. But in general, the more blatant a person was about their Christianity, the less likely they were to be a good customer.
Quite often, instead of a tip, people who wore Christian t-shirts and asked their servers for "prayer requests" would then leave a gospel tract or one of those fake "$1,000,000" bills with the gospel on the back instead of any sort of tip. Sometimes they would write a note on their bill saying, "The information on this pamphlet is more important than any amount of money. I hope you read it. I'm praying for you!"
So I smiled sadly the other day when I saw this image: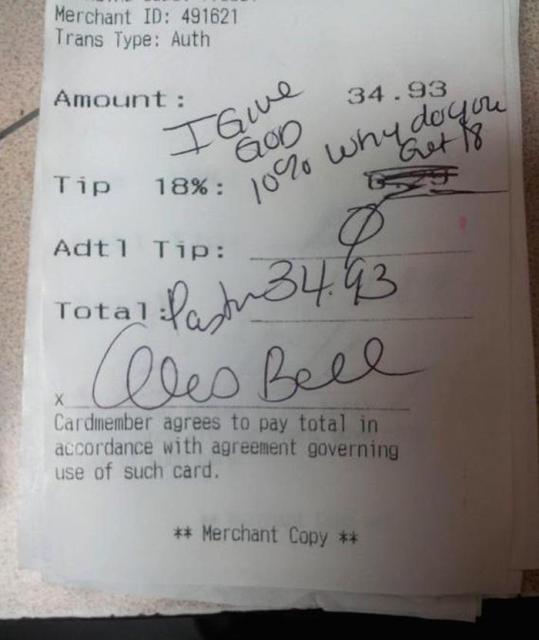 Yep, that's about right… The pastor refuses to leave any sort of tip for the waiter. This pastor is a bad tipper and a bad witness.
Look, if you are going to pray over your meal at a restaurant, wear a Christian t-shirt, carry your Bible, or take up a table for two hours while you have a Bible study during the busiest hours at the restaurant… do Christians everywhere a favor and tip generously. And by generous, I don't mean 10%. If you are going to do any of these religious things in a restaurant, give at least 20%. Be memorable, not for how little you give, but for how much. Have the servers wanting you to sit in their section, not begging for some other serer to take your table.
And hey, if you don't want to give 20% (or more), that's fine! Just don't wear the t-shirt, carry the Bible, pray over your meal, leave a gospel tract, or do anything else "Christian" at the restaurant. At least then you are not harming the name of Christ by being rude and cheap.