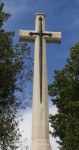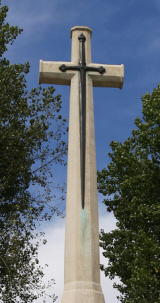 All too often the Christian church seems far more eager to take up arms against our enemies than we are to take up our cross and follow Jesus in dying for our enemies.
In the name of the one who taught us not to lord over others but rather to serve them (Matt 20:25-28), the church often lorded over others with a vengeance as ruthless as any version of the kingdom of the world ever has. In the name of the one who taught us to turn the other cheek, the church often cut off people's heads.In the name of the one who taught us to love our enemies, the church often burned its enemies alive. In the name of the one who taught us to bless those who persecute us, the church often became a ruthless persecutor. In the name of the one who taught us to take up the cross, the church often took up the sword and nailed others to the cross (The Myth of a Christian Nation p. 81).
Our world is soaked in blood as nation rises against nation. Far too often, the church has stood in support of their nation as it went off to war, defending the nation's righteous cause while calling for the blood of its enemies.
How can this be when we have Jesus as our example?
How can we possibly think that Jesus, who shed His blood for His enemies, would support our attempts to the shed the blood of our enemies?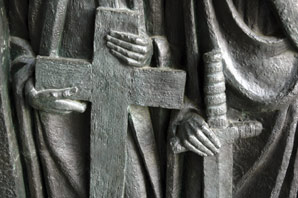 The last thing this world needs is more blood. Yet we go and kill our neighbors and our brothers, and we do it in the name of justice and freedom. We kill for the cause of Christ while the shed blood of Jesus cries out to us from the cross: Enough!
For though we were His enemies, and He had the only "just cause" in history, He did not seek to defeat His enemy by putting us to death, but by facing death Himself. The self-sacrificial love of Jesus on the cross was not only the way of redemption, reconciliation, and forgiveness for the whole world, but was also an example that we are called to follow in our own pursuit of peace and reconciliation with other people.
The never-ending cycle of violence will never stop through the use of more and greater violence, but through the self-sacrificial way modeled by Jesus.
[This post is part of a series called "Give Up Your Rights" which will form a chapter in my forthcoming book, Close Your Church for Good. To get a free copy when it comes out, subscribe now.]
---