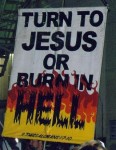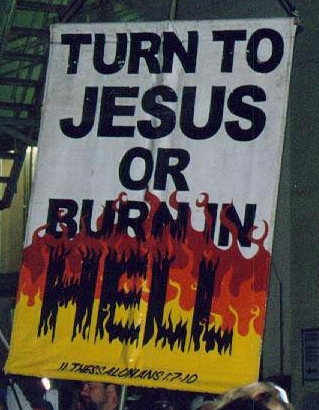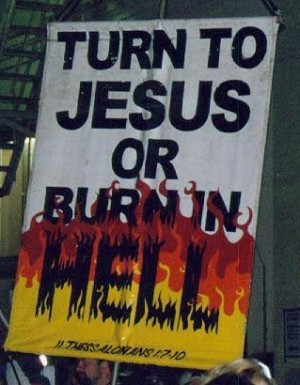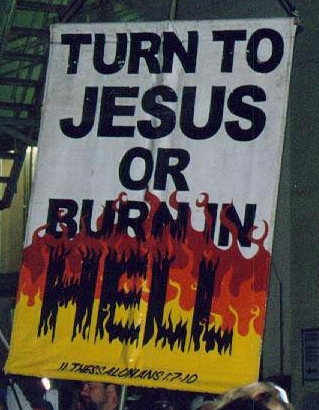 I sometimes hear pastors and teachers say that Jesus talked about hell more than heaven, and so we should do the same in our evangelism.
In other words, it is is often suggested that Jesus "scared" people into the kingdom. He threatened people with hell if they didn't believe in Him, and so in our evangelism, we are perfectly justified in using threats of burning forever in hell and other similar scare tactics to get people into the Kingdom of God as well.
And it isn't just the wacko fringe Christians who say this. I have heard it preached from the pulpits of some relatively "sane" evangelical churches. This sort of approach is also quite common in some of the leading evangelistic approaches of our day. People are trained to tell others that God is holy, righteous, and good, and since one sin is enough to condemn us to hell, God is justified in sending us there if we don't believe in Jesus for eternal life.
And rather than shying away from hell, we are told to use it as a way to invite people into heaven. After all, we are told, Jesus preached about hell more than heaven, and so should we.
But is this true?
Is it true that Jesus talks about hell more than heaven?
In my book I am currently writing on the violence of God in the Bible, I will be including a full chapter on what the Bible says about hell, and the vast majority of that chapter will find its way here to this blog.
But by way of preview (and because the topic of this month's synchroblog is hell), here are some of the main points I will be writing about in that chapter:
References to "fire" are usually not references to hell.
Jesus does speak about "fire" several times in the Gospels (e.g., Matt 3:10-12; 7:19; 13:40-50; John 15:6). But these references to fire are not references to a place of eternal torture for the unredeemed, but are simply symbols of temporal discipline and destruction that come upon some people as a result of straying from God's instructions. Fire can even be for purification of believers (the Greek word for fire is pur) as seen in 1 Corinthians 3:15.
Sometimes Jesus refers to "hell fire" (e.g., Matt 5:22), but these are actually references to "Gehenna," which I discuss in a later point.
The few references where fire may refer to the everlasting flames of hell are places like Matthew 25:41, and are used in reference to a place created for Satan and his angels. Do some humans end up there? It appears so, but again, this will not be for torture and torment. To explain why will have to wait for the book…
References to "the outer darkness" and "weeping and gnashing of teeth" are not references to hell.
There are several instances in Matthew where Jesus refers to "the outer darkness" and "weeping and gnashing of teeth" (Matt 8:12; 13:42-50; 22:13; 24:51; 25:30). These terms are sometimes used in connection with fire and so most people think they also refer to hell.
But they don't.
A careful contextual study of most of these texts reveal that the image of "outer darkness" is a symbol of exclusion from blessing and honor, and the image of "weeping and gnashing of teeth" is a vivid symbol of deep and profound regret. The events discussed in these places are typically events that will take place at the Judgment Seat of Christ (which is only for believers) and the Wedding Supper of the Lamb (which is also only for believers).
Again, I need full studies to show this, and these will have to wait for my book…
References to "hades" and "gehenna" are not references to hell.
There are numerous references in the Greek New Testament to hades and gehenna, and regrettably, most English translations translate these words as "hell." But a place of eternal, conscious torment is what modern people think of when they think of hell, this is not what first century Jewish people would have thought of when they heard the words hades and gehenna.

Hades, of course, is the ancient Greek god of the underworld, the god of death. In biblical usage, it is often a Greek translation from the Hebrew sheol, which means "the pit" or "the grave." Neither of these are references to hell, but simply refer to the hole in the earth in which dead people are laid (cf. Acts 2:27, 31; Rev 20:13).
There is, of course, the story about the rich man and Lazarus in Luke 16:19-31, which seems to equate hades with torturous flames in a pit of hell. But there are numerous problems with understanding this text as referring to what really happens to people after they die (for example, Lazarus is there with the rich man and they can communicate), and so it is dangerous to take this text to literally.
F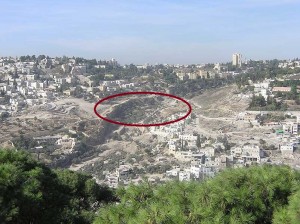 inally, Gehenna refers to an actual place that existed outside the gates of Jerusalem. It was a little valley in which trash was thrown to be burned. This imagery must be understood wherever Jesus talks about "hell fire" and uses Gehenna (cf. Matt 5:22).
And do I need to say it? … Yes, I know a fuller explanation is wanted on all these terms and texts, but it will have to wait for the book…
When all of this is considered, we see that Jesus didn't talk about hell more than heaven. He rarely mentions hell at all. As such, I think there is absolutely no place for threatening people with hell if they don't believe in Jesus for eternal life. Yes, we can warn people (as Jesus did) about the disastrous temporal consequences of their sin, but threatening people with eternal torment in flames is neither Christlike nor theologically correct.
To say that Jesus warned people of hell and so should we is just plain wrong.
Jesus Really Didn't Talk about Heaven that Much Either
Having said all this, Jesus really didn't talk that much about heaven either.
Just as we don't really want to scare people into believing Jesus, we shouldn't try to bribe them either. While Jesus talks about heaven more than hell, neither have a big emphasis in His teaching.
Instead, Jesus frequently talks about everlasting life, and life in the kingdom of God. Eternal life, of course, begins the moment we believe in Jesus for it, but the longer we live in Him, the great the experience of eternal life gets.
And the Kingdom of God (or the Kingdom of Heaven) is not a synonym for heaven, but simply refers to the rule and reign of God in our lives.
If you want to evangelize, and you want follow the way of Jesus and the apostles, you don't need to threaten or bribe. Simply lay out the grand vision of what life is like when we live it God's way. Life under the rule and reign of God is a life of joy, freedom, contentment, fulfillment, and satisfaction. It is a life of laughter and delight. It is a life free from bondage and slavery and addiction. It is life as it was truly meant to be lived.
This is the life Jesus lived, and this is the life Jesus invited people into. If we want to evangelize others like Jesus, we don't need to threaten them with hell or bribe them with heaven, but can simply invite them into a way of life is that is better than anything else the world has to offer.
---
This post is part of the May Synchroblog on the topic of hell. Below is a list of the other bloggers who participated this month. Go read what they have to say on the topic of hell.