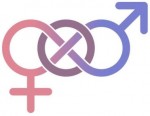 This guest post is by an anonymous person. Even though he is not ashamed of whom he is, he has chosen to remain anonymous to avoid embarrassing family members who are still evolving on these issues. This post was condensed from interviews with our anonymous poster.
This is part 2 of 4 blog posts. See Part 1 here: I am Queer, Part 3: Queer Christians, and Part 4: An Open Letter to Christians from a Queer.
Whether you agree or disagree with what he says, please be gracious in your comments below.
---
The people many of us have the most difficulty loving are the people who hate us. Please don't make it difficult for me to love you because you hate me for who I am – for being queer.
Even if you disagree with who I am or what I believe, don't hate me. I don't hate you. We probably don't agree on many things, but I don't hate you because of that. We can disagree, but still love each other with the love of Jesus who lives in us.
Jesus loves all of us. That's why he became one of us. If he loves us, and became one of us to show his great love for us, then is he not the one to tell us to love each other? Did he make a mistake when he told us that?
Are you young or old, fat or thin, Democrat or Republican? Are you for or against a certain issue? Are you rich or poor? Do you go to church or synagogue or nowhere? Are you straight or gay? Do you live in a big house or under a bush? Do you smoke marijuana? – Regardless of your answers to these questions, I can still love you because Jesus loves you.
If I hate you, how can Jesus and his love live in me? – I don't think it can.
A friend told me he murdered someone when he was younger, for which he was sent to prison. Another cheated on his wife. Another divorced her husband because she got tired of him. Another divorced his wife so he could live with his boyfriend. Another abused his wife and she left him. Yet I hate none of these people, but love them, even though the stories I've described were choices they made.
Even if I think the Bible seems to condemn certain actions, I do not hate someone because they did those things. So how could I hate you for who you are? How could I hate you for how tall you are, the color of your skin, your age, your gender or for your sexual orientation?
I don't hate you, no matter who you are or what you have done. Please don't hate me either. Please don't hate me for being queer.
Do you have questions for me? Do you want to hear more of my story? There will be two more posts this week in which I will share more about me, and if there is enough interest, we can do a Q&A in a future post.