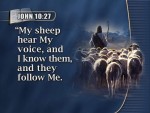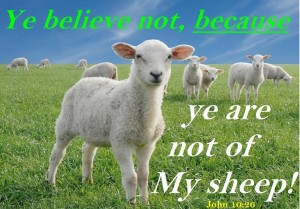 John 10:26 is often cited by Calvinists as a clear statement about Unconditional Election and how people do not become God's "sheep" because they believe in Jesus; instead, they believe in Jesus because they were already God's sheep.
On this text, John Piper writes, "We believe because we are God's chosen sheep, not vice versa" (Piper, 5 Points, 54).
This text is also sometimes used to defend the idea that regeneration precedes faith, and that God selects who will be His sheep from eternity past.
A. W. Pink writes that the elect "are 'sheep' before they believe, yea, before they are born" (Pink, Sovereignty of God, 338).
And while John 10:26 does pretty clearly state that some people do not believe because they are not God's sheep, the meaning of the passage depends entirely upon the broader context, and especially what Jesus means by "sheep."
John 10:26 in Context
John 10:14-16 are three verses in particular which help explain what Jesus is saying in John 10:26.
I am the good shepherd; and I know My sheep, and am known by My own. As the Father knows Me, even so I know the Father; and I lay down My life for the sheep. And other sheep I have which are not of this fold; them also I must bring, and they will hear My voice; and there will be one flock and one shepherd (John 10:14-16).

But you do not believe, because you are not of My sheep, as I said to you (John 10:26).
The imagery of "sheep" is prevalent in John 10, and to understand what Jesus is saying in John 10:26, we must understand what He is saying about sheep, and Himself as the Shepherd.
The truth that was seen in John 6 is important here as well. Jesus has come from God as the promised Messiah, and to help Him accomplish His earthly task, God has given to Jesus all those who were faithful followers of God.
We see this sort of thing happening all over in the Gospel of John. As Jesus engages in His earthly ministry, He frequently explains that those who know God, follow God, listen to God, and hear from God, will naturally and automatically know, follow, listen, and hear Himself as well, since He is from God (John 8:19, 42, 47; 14:7; 15:23; 16:3).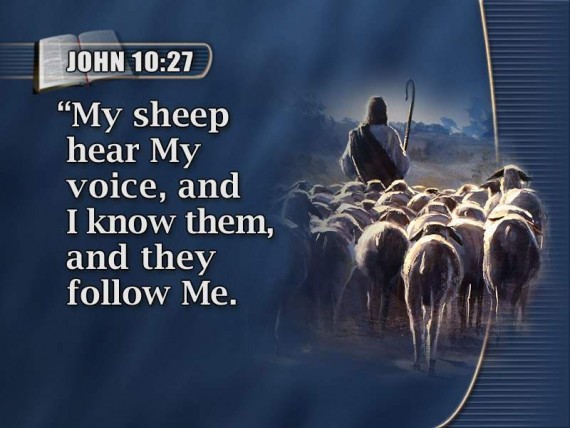 So when Jesus speaks of "sheep" in John 6, He is referring to the Jewish people who came to Him from the Father. This imagery has great support from numerous Old Testament texts (cf. I kings 22:17; Ps 44:11, 22; 74:1; 78:52; 79:13; 95:7; 100:3; 119:176; Isa 53:6; Jer 23:1; 50:6, 17; Ezek 34:6, 11-12).
The Other Sheep of John 10:16
That this is what Jesus means is seen from John 10:16 where Jesus says that He has "other sheep" which are not of this sheepfold. What is He talking about? Since He is talking to Jewish people about those who come to Him from the Father, the "other sheep" are Gentile God-fearers who will also be given to Him by God.
This is exactly what occurs in the book of Acts (cf. Acts 10:1-2, 44-48). The ultimate goal, of course, is to bring both groups of sheep into one flock and under one Shepherd (John 10:16; Eph 2:13-18).
My Sheep Hear My Voice
All of this also explains why Jesus talks about His sheep hearing His voice (John 10:3-4).
The sheep which belong to Jesus have already become accustomed to hearing the voice of God, and so when they hear the voice of Jesus, the recognize His voice as the voice of God, and so they come to Him to follow Him.
These sheep were not unbelievers before they came to Jesus.
No, they were believers in God who followed Him and His ways for their life. They had become accustomed to the pattern and sound of God's voice, and so when Jesus called them to follow Him, they looked at what He did and what He said, and recognized Him as having come from God.
This also explains why most of the Jewish leaders in John 10 do not come to Jesus: they didn't recognize Him as the shepherd, because by this point in their history, they had stopped listening to God's voice. As Alfred Plummer notes, Jesus "and His sheep have most intimate knowledge of one another; therefore these Jews asking who He is prove that they are not His sheep" (Plummer, "The Gospel of John" in  The Cambridge Bible, 220).
The Door for the Sheep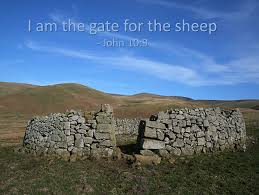 When Jesus talks in John 10:7-10 about being the door for the sheep, He is not necessarily talking about how a person receives eternal life, but is instead talking about how a person finds protection and safety in this life, from those who wants to steal, kill, and destroy.
When Jesus uses the word "saved" in John 10:9, He is talking about being guided to green pastures and being delivered from the thief who seeks to steal, kill, and destroy. To be "saved" in John 10:9 means to have the abundant life of John 10:10. This is not equivalent to receiving eternal life.
The Unbelieving Sheep of John 10:26
So when all of this is taken into consideration, we see that when Jesus says in John 10:26 to some unbelieving Jews that they do not believe because they are not His sheep, He is not at all saying that they will not believe, or cannot believe.
Nor is He saying that everyone who ever believes in Him was one of His sheep before they believed.
No, Jesus is saying that these specific Jews who are having trouble with His claims, are having this trouble because they were not previously one of God's sheep.
They do not recognize Jesus for who He is because they never understood who God really was. Despite all their religious claims to the contrary, they never truly followed God or learned to listen to His voice.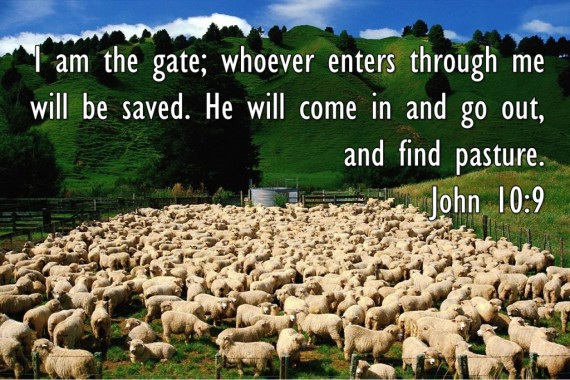 If they had, they would have been one of God's sheep, and God would have given them to Jesus, and they would have recognized His voice when He came to them. But since they did not recognize Him or His voice, this means they were not His sheep, and therefore, were not previously God's sheep either.
Again, Jesus is not shutting the door in their face and saying there was no hope for them. He was telling them these things in the hopes that they would examine their hearts and minds and consider the idea that maybe, just maybe, Jesus truly was who He said He was, and that He was revealing God to them in the way God truly is.
If they believed in Him, then they would immediately become one of His sheep (though they had not previously been one of God's), and He would give them eternal life, and would protect them and provide for them just as He does with all His sheep (John 10:27-30).
When Christ came, his sheep, like Simon (Luke 2:25), Anna (Luke 2:36-38), Zacharias and Elizabeth (Luke 1:5-6), the shepherds (Luke 2:8-10), and the disciples (John 1:40-49), knew him (John 10:14), followed him (John 10:27), and received eternal life (John 10:28). We have here the separation of the Jewish sheep from the goats and the drawing of them to the Messiah (Vance, Other Side of Calvinism, 340).
Unconditional Election is not Taught in John 10:26
So there is no statement in John 10:26 about a divine choice in eternity past about who will belong to Jesus and believe in Him. "Jesus gives no hint here that He selected these specific disciples to be His sheep" (Klein, The New Chosen People, 127).
Like the passage in John 6, John 10 explains the transitionary nature of Jesus' ministry, where those who used to follow God and hear His voice, are now given by God to Jesus so that they now follow Jesus and hear Him.
All those who truly followed God and listened to Him will now follow Jesus and listen to Him, both among Jews and Gentiles. And why does Jesus call His sheep and ask Him to follow them? So that they can be His disciples; so they can serve Him and bless others.
If you want to read more about Calvinism, check out other posts in this blog series:
Words of Calvinism and the Word of God
.