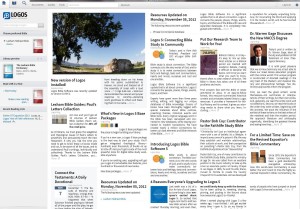 Do you use any Bible software for reading and research? I have used various programs in the past (QuickVerse and BibleWorks), and have generally enjoyed using them for research, but not for reading. So when Logos Bible software recently asked me to select any book from their library for review on this blog, I was interested in seeing if they could convert me to using their software for reading books on a computer. I recently estimated that I own about 10,000 pounds of books, and since I have moved 15 times in the last 15 years, I am getting sick and tired of moving books. It sure would be nice to just pack up my computer and go…
Enter Logos Bible Software
Note: After writing this post, a new version of Logos Bible Software has come out. Check out my review here.
As mentioned above, I have used other Bible software over the past 20 years, but I primarily use it for streamlining my study process. I use it for concordances, Greek and Hebrew lexicons, and other similar reference tools. Books like these are not written to be read cover to cover, but are written to aid in research. As such, I love Bible software for these purposes, because with a few clicks of a mouse, I can look up a certain Greek or Hebrew word in various lexicons, see where that word is used in other contexts (both biblical and extra-biblical), and even check a few commentaries if I want to.

But I have never enjoyed reading a book cover to cover on a computer screen, and this trial run of Logos Bible Software confirmed my feelings once again. Call me traditional, call me old-fashioned, but there is something about holding paper in my  hands, turning pages, and having the ability to mark up the text, underline key points, and scribble comments in the margins. In fact, the amount of writing I do in a book determines whether or not I consider it worth reading. I judge a book by how much I write in the margins.
I know that some Bible software programs allow the reader to highlight text in the book they are reading, and I seem to remembering seeing something like this with Logos, but again, when I am reading a book, I don't want to have click a button with a mouse, highlight some text, and then click another button to add a note. That slows the reading process WAY down and annoys me to no end.
I am not sure if anyone will ever come up with a program for a tablet computer that allows you to underline and highlight text, and write in the margins of a book the way you can in a paper book, but until that happens, I am probably not ever going to read books digitally.
But back to my review of Logos Bible Software. It does have some good strengths. I love the fact that the entire library is searchable. This fact alone makes me want to read more books digitally. I cannot tell you how many hours I have wasted in my life trying to find a passage I know I read somewhere, but cannot remember which book it was in. It is SO frustrating. With searchable text, this search would be easier. Also, I liked how Logos added links to every Scripture text so that if you wanted to read a verse, all you have to do is hover your mouse over the reference, and the Scripture text pops up onto the screen. That is extremely helpful.
In the end, while Logos Bible Software is a great way to get lots of research tools in a handy, accessible way, and while it is certainly the best way to carry a vast library to the other side of the country (or around the world)–which would be helpful for missionaries or for people who move a lot–it is not the best way for traditional book readers like myself to enjoy a book in a quiet corner with a cup of coffee.
How about you? Have you used Logos Bible Software? What was your experience? If you haven't used it, go check them out! They are the leaders in Bible software, and if you don't mind reading books on a computer, they might be the perfect fit for you.
Make sure you also go read my Logos Bible Software Review of Version 7.