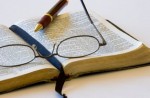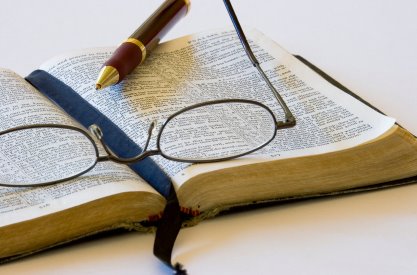 I've been using Bible Study Software for over two decades. I have used various versions of nearly everything on the market, including numerous software packages that are no longer available. About ten years ago, I started using Logos Bible Software, and have never looked back!
And this year's version, Logos 9, is the best version yet!
Before you reader further, know that if you want to get Logos, you can get an exclusive partner discount on Logos Bible Software by following THIS LINK.
The following post will cover some of the updates and items in the new version of Logos Bible Study Software, but let me share with you something that I am particularly happy about, which has been around for a while, but I have only recently started using…
At my place of work, they recently installed new computers. In the process, the company banned all of us from downloading and using any sort of software other than software that was approved. And guess what? Logos Bible software was NOT approved.
But not to worry! Logos has me covered!
I recently discovered that I can access the online version of Logos with no problem from my work computer! All I have to do is visit app.logos.com, sign in, and I'm ready to study the Bible! Of course, if you have a cell phone or tablet, they provide great apps for your convenience as well.
(Oh, and by the way, if you think I'm shirking my duties at work to study the Bible, I am a chaplain, and so part of my responsibilities require me to study for my sermons and counseling sessions.)
Updates in Logos 9
If you are unfamiliar with Logos Bible study Software, I recommend you just watch some of the introductory and tutorial videos that they have right on their website, or on the Logos YouTube Channel.
The Factbook!
The greatest update to the new Logos version is the Factbook section of Logos. When you use Logos Bible software, you will notice that many names, places, and other words will be underlined. You can hover your curser over these phrases to get a short summary of that person, place, or term, or you can click on the phrase to get a lot more information about this phrase with some key articles, definitions, parallel passages, etc.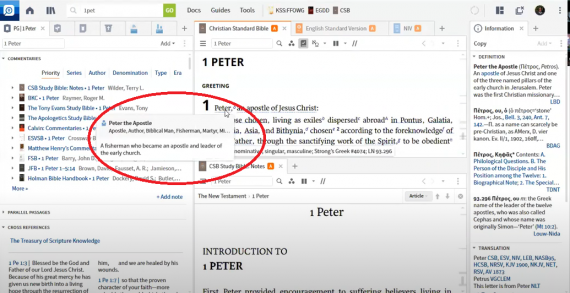 This is a GREAT way to get an in-depth study on nearly any topic, idea, theme, person, place, or subject of Scripture.
Filtering Options for Commentaries
I have an extensive Logos Bible Software library. One thing that has always bothered me is that I had trouble sorting my commentary library in a logical fashion to find the type of commentary I wanted on a specific passage of Scripture. In the past, Logos simply offered me the commentaries they thought were the primary commentaries on a passage.
But I have always been a bit of a contrarian. And honestly, I rarely agreed with the priority selection of commentaries that Logos offered to me.
Thankfully, they have now offered numerous ways of sorting my commentary collection, not only by priority, but also by series, author, denomination, type, and era.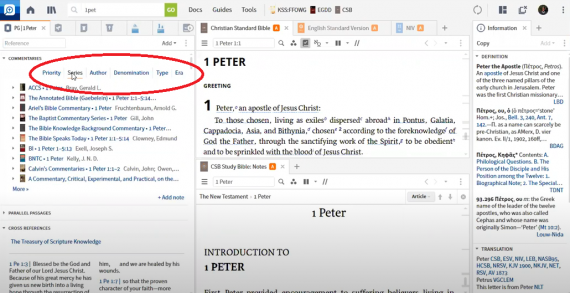 I am THRILLED. I can now select the type of commentary I want to consult first, before expanding my research to other resources.
The Counseling Guide
You have to get at least the Silver package of Logos Bible Software to get this benefit, but it is extremely helpful for any person in a role that requires counseling. Type in any topic to the counseling guide, and Logos will provide you definitions, resources, discussion guides, and all sorts of other helpful guides for any counseling situation.
Here is a screenshot of what it looks like for the issue of communication in marriage. … Maybe rather than counsel someone else on this, you might find this helpful for your own marriage! I know I found it helpful!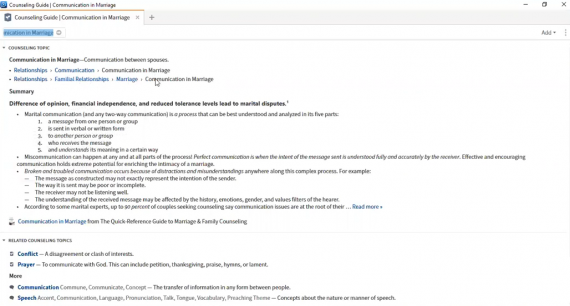 The Sermon Builder and Sermon Manager
The sermon editor is now the Sermon Builder. Using the powerful Logos Bible Software, you can enter a text into Logos, and the software will help you study for your sermon, write your sermon, and provide numerous resources for your sermon.
Best of all, they now have a "Preach Mode" for sermon, which includes a timer for your sermon, and puts the sermon text on a screen so you can preach right from your tablet!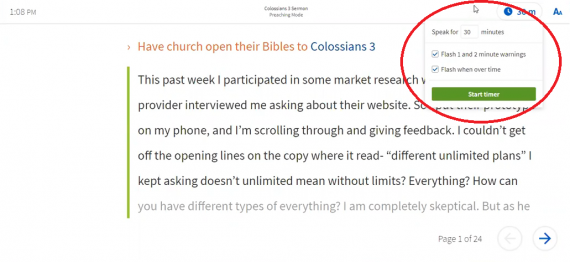 They have also included a Sermon manager which helps you plan and organize your sermon calendar for the entire year (or even for years).
And Much More!
There are many more new improvements to Logos Bible Study software. Here are some of the other improvement they have made to their Bible study software:
Images in Notes
Add an image inline in your notes.
Snap a photo on your phone, or add it from the camera roll
Access all your personal media from anywhere in your User Vault
Charts tool (desktop and web apps)
Visualize your Bible search results
New graph types, animations, and export options
Now listed in the Tools menu
Replaces the Graph Bible Search Results view
Improved Reading Plans (all platforms)
Easily start a reading plan on any resource in your library.
Get a reading plan with sessions based on chapters.
Read at your own pace.
Follow your plan in a newly-styled reading flow on mobile.
Document info pane
Set description, tags, and language.
See shared status.
Preview doc owner's account profile.
App toolbar improvements (desktop)
Easily switch to another Logos account on the same machine. (Supports previous functionality; still requires separate account licenses, and stores data separately on the hard drive.)
Quick access to change program scaling, switch to Dark Mode, and more.
Create shortcut folders
Commentaries guide section improvements
Updated look: Book covers, series abbreviations, and authors make it easier to distinguish volumes.
New sorting options: Sort by series or author, or group by type of commentary, era that it was written, or denomination of the author.
Easier access to search (mobile)
The iOS and Android apps now feature search:
on the bottom nav bar
in the re-organized menu drawer
right from the reference box in any resource
Passage Lists (mobile)
View your existing Passage Lists under Documents.
Save Bible references from Reference Scanner as a Passage List.
Logos Bible Software really is the best Bible software available today. If you already have Logos, upgrade now, or if you don't, go see what package of Logos Bible Software is best for you. When you follow that link, you will also get an exclusive partner discount on Logos Bible Software when you buy.