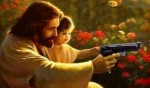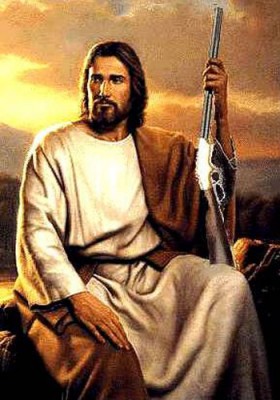 The constitutional right to bear arms is technically about the right of an individual to defend and protect themselves and their family against intruders and those who wish to do them harm.
I need to do a lot more thinking and study in this area, but in general, I fully support such a right, and believe that the constitutional right to bear arms is valuable,  important, and necessary in a world such as ours.
I do sometimes wonder, however, what Jesus would have thought about the right to bear arms, and the subject of self-defense.
Would Jesus Own a Gun?
After all, He would not even allow Peter to raise a sword in His defense (Matt 26:52), nor did He utter a word in self-defense at His trial when false accusations were leveled against Him (Matt 27:12-14).
But self-defense is a complex issue, and it is not primarily the issue that concerns me here.
My main concern is with what seems to be the duty and obligation of our churches to provide moral support for the wars of our nation against other countries and against some within our own borders.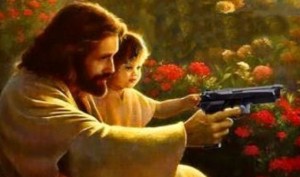 I get quite concerned when churches and church leaders preach and teach about our responsibility a to kill, bomb, and destroy other people in the name of freedom and justice—or worse yet, in the name of Jesus.
Can Violence Put an End to Violence?
We see the evil and terror that goes on in other countries, and think that as the moral guardians of the world, it is our responsibility to bring evildoers to justice, and to right what is wrong in this world.
This seems honorable. Is it not the responsibility of those with power to use that power to protect the weak, and advance the cause of freedom and justice? Yes, it is.
The problem, however, is when people use violence as the means by which they attempt to protect the weak and advance freedom and justice. One of the greatest myths in all of history is the idea that violence against others is the only way to stop the spread of violence. This is called the myth of redemptive violence.
Nearly every book and movie contains this great myth, and almost everyone believes it, despite the fact that history has proven time and time again that violence will never put an end to violence. Yet nevertheless, we train our children in this myth from the moment they are born. Even most cartoons and children's books are based on the myth that violence must be used to defeat violence. (For the best discussion on this subject I have ever read, see Engaging the Powers
 by Walter Wink).
The example of Jesus and the call of the Gospel contain no evidence that violence toward others has anything to do with following Jesus into the world. We will look at this idea more in future posts.
[This post is part of a series called "Give Up Your Rights" which will form a chapter in my forthcoming book, Close Your Church for Good. To get a free copy when it comes out, subscribe now.]
---