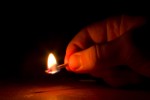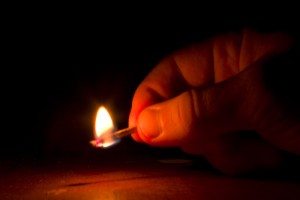 If the church wants to follow Jesus into the world, we must begin by looking in our town, in our community, and in our neighborhood for the places that are dark and sin-filled. We must have the courage and the faith to see those places and those people set free from their slavery to sin in the kingdom of darkness and redeemed into the peace and love of the kingdom of light.
There is no place off limits.
There is not place that is too sinful.
There is no place that is too corrupt.
The raging fire of the Gospel of Jesus can overcome and outshine any darkness, any sin, any corruption.
The Power of Redemption
I believe that the church has not yet begun to understand the power of redemption. Jesus wants not just to redeem every person on earth, but every place and event as well. Through redemption, Jesus not only transforms and rescues you and I, but also pagan holidays, wicked places, torn nations, and corrupt governments.
There is no place on planet earth where Satan can stake his claim. There is no place where he can say, "This far, and no further."
Through the death and resurrection of Jesus, God has once again laid claim to every nook and cranny, every square inch, every person, every life, every institution has come under the control of the Kingdom of God. The Kingdom will not stop advancing until every knee bows and every tongue confesses that Jesus Christ is Lord and until everything in heaven and on earth is placed under His feet.
So what business does the church have in portioning up our towns and cities? Why do we let Satan have his locations, while we retreat into ours? Why do we give up some people to the devil, thinking that they are "beyond hope of redemption," while we lead yet another Bible study for those who already know their Bibles forward and backward?
How is God's Power Manifested?
Where is God's power most manifested and made known? Not when we get record attendance. Not when we construct another wing on our church building. Not when our book becomes a best seller.
No, God's power is most manifested when people are set free, when this world is redeemed.
When murderers become world evangelists.
When prostitutes become role models for a Godly marriage.
When greedy businessmen become generous businessmen.
When neighborhoods filled with gang violence become neighborhoods filled with love and safety.
When strip clubs and bars become houses of refuge and acceptance.
When war-torn nations heal and enemies come together in forgiveness.
When churches recognize that God did not save us for our own safety and comfort, but to love and serve others.
Freedom and redemption do not primarily occur in church buildings by hearing another sermon about our freedom in Christ and singing another round of "I've Been Redeemed." No, freedom and redemption primarily occur when the people of God go out into the sin-darkened world with the light and love of the Gospel and the desire to rescue, protect, and serve the people they find. This is church.
[This post is part of a series called "Fixing Our Eyes on Jesus" which will form a chapter in my forthcoming book, Close Your Church for Good. To get a free copy when it comes out, subscribe now.]
---