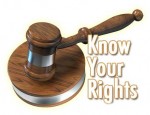 This post is the conclusion to the series on Giving up our Rights in which we have looked at some of the rights we think we deserve, and have seen that as followers of Jesus, we may be called upon to give up these rights for the sake of the gospel.
The greatest example of how to give up our rights is Jesus Christ. Though as God incarnate, He had every right to life, liberty, and the pursuit of His own personal happiness, though He had the ultimate freedom to make His own religion, to say whatever He wanted to whomever, to call crowds of disciples to follow after Him, and to take up all the power and force of the universe in His defense, Jesus instead chose to give it all away.
Rather than fight for His right to life, He went freely to His death, even to death on a cross (Php 2:8). Though He had the freedom and liberty to do whatever He wanted, He came instead to proclaim liberty to the captives (Luke 4:18), and give freedom to a world enslaved in sin (John 8:36).
In His life and teachings, He showed that true happiness is not in self-fulfillment, but in self-sacrifice and service (Matt 5:1-10; John 13:1-17). Jesus did not create a new religion, but set us free from all the rules and regulations of religion (The Gospels).
When given the opportunity to slander others or speak in His own defense, He kept silent and spoke not a word (Matt 26:62; Mark 14:61). When crowds gathered to follow Him, He more often than not turned them away and kept His group of followers small (John 6:66).
And far from taking up the sword and calling angels to defend Him against His enemies, Jesus told His followers to put away their sword (Matt 26:51), and did not call legions of angels as protection (Matt 26:53).
All of our God-given rights which we fight to defend and protect were discarded and rejected by Jesus. "When did Jesus ever concern Himself with protecting His rights or the rights of the community He was founding? Did He not rather do the exact opposite and teach us to do the same?" (The Myth of a Christian Nation
 p. 181).
He had more right to these rights than we ever will, but He gave up them all up for the sake of His mission to inaugurate the Kingdom of Heaven on earth.
If we are going to follow Jesus in helping His kingdom advance, we too must give up our rights and follow where He leads.
[This post is part of a series called "Give Up Your Rights" which will form a chapter in my forthcoming book, Close Your Church for Good. To get a free copy when it comes out, subscribe now.]
---