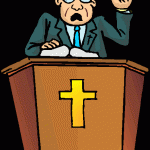 I remember when I preached my last seminary sermon. It felt so good.
Though I learned a lot about preaching while in seminary, I immediately tried to forget most of it.
If I had to preach for the rest of my life within the box that is the seminary sermon, I would quit the ministry.
Sadly, I think most seminary students don't understand that what the seminary teaches about preaching is a bare bones template, and we have to add in our own personality and creativity to make preaching come alive. Such pastors who preach predicable three point sermons every week, are boring themselves and their congregations into spiritual sterility.
Seeds of God's Word are being flung out there, but the seeds are impotent to reproduce disciples.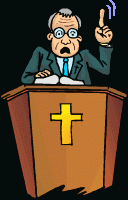 Part of this is because too many pastors get their sermons from a can, and present them to a sitting, smiling, and nodding audience (maybe they're nodding off). Adding more stories and jokes is not going to help. It may help people pay attention, but keeping their attention is not the same thing as making disciples. Some have tried shorter sermons, while others go for longer sermons. Some go for topical series, while others do "exposition."
None of it seems to be working very well.
It's a cop-out to say (as I've heard some pastors say) that "Results are not up to us. We just need to preach the Word and leave the rest up to God." This is an excuse to not face the hard questions.
So I wonder if it isn't time to reexamine "The Sermon." This is something I fear to do, because frankly, I LOVE to preach. Preaching is one of the aspects of pastoral ministry I enjoy the most. I am not sure I would enjoy pastoral ministry if I wasn't able to preach (maybe that says something about my heart…).
But I'll put off that examination until some other time, since I don't want to face the music today.
2012 update: I faced the music. See my posts about preaching here.