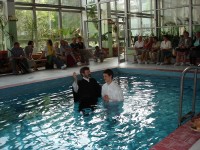 A coworker recently told me she started going to church again, and thought she should get baptized.
I asked her if she had ever been baptized before. She hadn't.
So I asked her why she wanted to get baptized.
She said, "Well, …isn't that what God wants?"
I encouraged her for her desire to obey God and do what He wants, but I also told her that God doesn't really care too much if she gets baptized or not.
She was shocked to hear me say this, and possibly, you are too.
Baptism is not for God
I went on to explain to her that baptism is not for God. He already loves her and forgives her and accepts her completely as a result of the death and resurrection of Jesus. I told her that baptism is a public declaration of her desire to follow Jesus. It is like publicly stating, "I am a follower of Jesus!" If that is what she wants to do, and she wants to do that through baptism, that would be fine.
However, I went on to tell her that there were numerous other ways of making a public declaration about her choice to follow Jesus, and one of those other ways might be more meaningful for her and for those who know her. We went on to talk about what some of those other ways might be, and she told me she would think about it. She said she was not sure she was ready to make any of those other public declarations.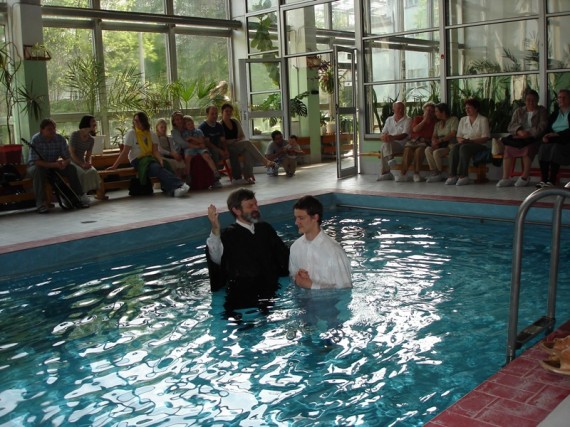 Isn't this interesting? She was ready and willing to get baptized, but not ready to make a public declaration among her friends and family about her desire to follow Jesus.
Wondering about Baptism
It made me wonder. How many people who get baptized today really understand what they supposedly are doing? How many understand what baptism really represents? If baptism today truly represented what baptism did in the days of Jesus and the early church, how many people would really undergo baptism?
The solution to this problem, I believe, is not to resurrect baptism.
It is hopeless to try to educate an entire generation of Christians on what baptism indicates, and also educate an entire culture of people about what it means when their friends and family members get baptized. There is deep symbolism and significance in baptism. It symbolizes something revolutionary.
Yet since most people (including Christians) do not understand the symbolism, the solution is not to just keep baptizing people since "That is what we've always done."
But we cannot really "re-education" everybody either. For the symbolism of baptism to work properly, the symbolism has to be understood not only by those getting baptized, but also by those who observer the baptism, including the surrounding non-Christian culture of friends, neighbors, and coworkers who hear about it.
The Baptismal Solution
So rather than try to educated the entire world on the function and symbolism of baptism, wouldn't it be easier and more meaningful to find an equivalent function in our own culture which symbolized the same thing that baptism symbolized in the days of Jesus and the early church?
But to find this, we must look back to Scripture and biblical culture to relearn the meaning and significance of baptism, so that we can understand the symbolism and function. Only then can we look for some equivalent function and symbol in our own time and culture.
We will begin looking at the Scriptures about baptism tomorrow.
---