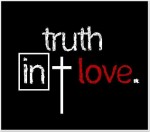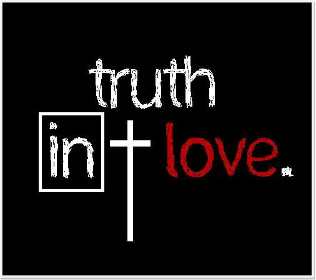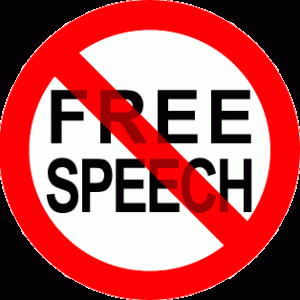 When it comes to speaking the truth in love, what matters is not how you think you are speaking. What matters is how others perceive it.
I sometimes hear Christians say the meanest things to other people, and when confronted about it, they say "I am just saying what needs to be said to rescue their soul from hell. If you saw someone walking toward a cliff, wouldn't you shout and yell at them if it would keep them from walking off the cliff?"
I understand the analogy, but people walking off a cliff and people headed toward eternal separation with God are two very different things, and when God sought to rescue humanity from eternal separation, He does not choose to yell at us, but instead chooses to love and serve.
No example of this is greater than Jesus Christ.
A quote from The Myth of a Christian Nation
by Greg Boyd is particularly appropriate here: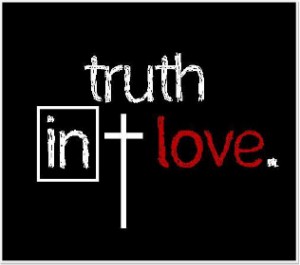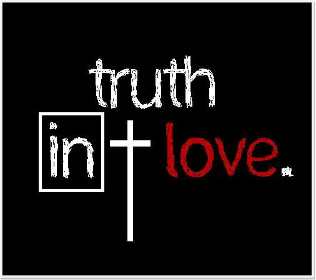 For the church to lack love is for the church to lack everything. No heresy could conceivably be worse!

…We evangelical Christians often insist that we are loving; it's just that the world is so sinful they can't see it—or so we tell ourselves. They don't understand what "true love" is. That attitude is frankly as arrogant as it is tragic. …If contemporary people don't see in us what ancient people saw in Christ, it can only be because the love that was present in Christ isn't present in us. And if they see in us what they saw in ancient Pharisees, it can only be because the self-righteousness found in the Pharisees is found in us.

Our comical insistence that we are loving, despite our reputation, is a bit like a man insisting he's a perfectly loving husband when his wife, kids, and all who know him insist he's an unloving, self-righteous jerk. If he persists in his self-serving opinion of himself, insisting that his wife, kids, and all who know him don't understand what "true love" is, it simply confirms the perspective these others have of him. This, I submit, is precisely the position much of the evangelical church of America is in. Until the culture at large instinctively identifies us as loving, humble servants, and until the tax collectors and prostitutes of our day are beating down our doors to hang out with us as they did with Jesus, we have every reason to accept our culture's judgment of us as correct. We are indeed more pharisaic than we are Christlike (pp. 134-135).
While our government may give us the freedom of speech, and the right to say just about anything we want to anyone we want, the gospel of Jesus Christ gives us no such freedom. Our speech must always be with grace, as we speak the truth in love, making sure that in everything we say, no unwholesome word proceeds out of our mouth, but only what is beneficial, edifying, encouraging, uplifting, and helpful (Col 4:6; Eph 4:15, 29).
Under the gospel, we do not have the right to say what we want, when we want, and where we want, but are called to speak in such a way that all people will be drawn to Jesus because of His great love for them as revealed in our words and actions.
[This post is part of a series called "Give Up Your Rights" which will form a chapter in my forthcoming book, Close Your Church for Good. To get a free copy when it comes out, subscribe now.]
---